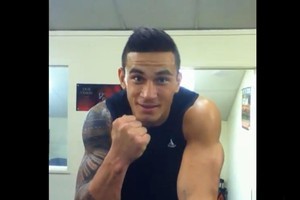 A Kiwi bride had a string of All Black "ex-boyfriends" appear at her wedding, including Sonny Bill Williams, who said he believed they could have been happy together.
In a video put together by the best man, four All Blacks all claimed to be Amy Burnside's former lovers in a comedic surprise for the bride.
Mrs Burnside, nee Gibbons, married her English fiance, James Burnside, in her hometown of Christchurch in April.
Best man Mike Benson knew how much the couple loved rugby and thought he would surprise them on their wedding day.
"He's a massive rugby fan, and she and all her family are massive All Blacks fans, obviously. So I thought I'd try to get something together on a video. I spent about six months chasing people through friends of friends."
The effort paid off, and he managed to persuade Jonah Lomu, Jerry Collins, Doug Howlett and Williams - the crowd favourite - to be in the video.
Lomu, the first "ex-boyfriend", congratulated Mrs Burnside and told Mr Burnside to look after her.
It seemed it didn't take Mrs Burnside long to get over Lomu, because that year she began a two-year relationship with Collins.
"I just want to wish you guys a cool day, and to James, good luck mate, you're going to need it."
Again moving on quickly, Mrs Burnside then "dated" Howlett.
The pin-up former All Black winger wished Mr and Mrs Burnside all the best for their wedding.
"I hope it was the great day."
Then Williams had his turn to talk about his "ex-girlfriend". In a sleeveless shirt, bulging biceps exposed, and working out on an exercise bike, Williams reminisced about how he and Mrs Burnside first met.
"It reminds me - in the gym, both of us working out. I just wanted to say that I still think of you all the time. It's a shame you're getting married because I really thought we could be happy together. But I'm happy that you're happy.
"And James, if you treat her wrong or anything, I'll come after you, all right?" Williams said, as he grinned and lifted a fist towards the camera.
Mr Benson revealed the video during his best-man speech at the reception, when he told the newlyweds he had been getting messages from Mrs Burnside's ex-boyfriends.
"And I said, 'I've been telling them it's inappropriate. I can't give them the messages - it's Amy's and James' special day.' Then I said that they just kept on messaging me, so I told them, 'Okay, okay, if you guys make a video message I'll play it at the wedding."'
Mrs Burnside, who lives in London, told the Herald she was "really nervous" when Mr Benson started going on about her ex-boyfriends.
"I mean, there's not that many, but I didn't know who he might have got."
But all was forgotten as soon as it started, and Mrs Burnside claimed everything the All Blacks said - especially Williams - was true.
The video was so popular that the next day, when Mr and Mrs Burnside had guests from the wedding over, it was played throughout the day.
Mr Benson said he wanted to share the video with others because the All Blacks were "such good sports" and he thought people would want to see that.
"They were all so great playing along - especially Sonny Bill with his guns."