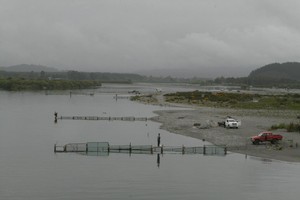 Two Hokitika businesses are at each other's throats over whitebait.
Crowds have flocked to Hokitika Museum since the introduction of the popular exhibition Whitebait! - The Story of New Zealand's Favourite Fish but not everybody is behind the museum's quest to turn the existing display into a permanent attraction.
In a scathing letter to Westland District Council, representatives from the National Kiwi Centre revealed their opposition to the use of any further public money to create a permanent whitebait exhibition at the museum, and suggested that it was already in direct competition with them.
The letter stated that a whitebait display had been on show at the Kiwi Centre four years before the museum introduced its own $90,000 Real NZ Festival-funded display last September. The centre said it was "disgraceful" that the Hokitika Museum had, with the help of Lottery funding, "pinched" their idea.
Hokitika Museum director Julia Bradshaw yesterday denied that the idea had been stolen from the Kiwi Centre, noting that museum staff already recommended to visitors that they go and see live whitebait at the National Kiwi Centre.
Ms Bradshaw said she had also made an offer that the two places to work together more closely in promotion.
"The idea that by telling the story of whitebait and its importance to West Coast culture Hokitika Museum is competing with the National Kiwi Centre is, I believe, not correct. The exhibition is primarily about the social history of whitebaiting while the National Kiwi Centre is a natural history experience," Ms Bradshaw said.
"I also take issue with the statement from the National Kiwi Centre that there is a 'large amount of funding available to the museum'. The museum has only $5000 a year to enhance its displays. The money that we received from the NZ Festival Lottery Fund for the exhibition was available to any business or organisation that chose to apply.
The museum exhibition is due to go into storage on April 15, but the museum is applying for funding to make it permanent.
Ms Bradshaw said to take it down and put it up every whitebait season, as the Kiwi Centre suggested, would be too expensive.