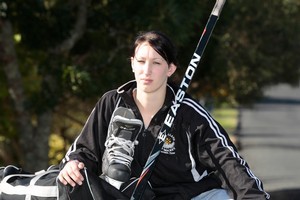 A New Zealand women's ice hockey representative says she is gutted that expensive gear has been stolen as she raises money to attend world championships in Slovenia.
Ice Fern Jasmine Horner-Pascoe, 18, parked her 2005 blue Subaru Impreza at a friend's house in Peary Rd, Mt Eden, at the weekend.
She realised it had been stolen early on Saturday morning when she was leaving Auckland for Piha. Inside were training shoes, two hockey sticks worth $600 each, and a representative jacket which commemorates years of playing for the country at inline hockey.
The Maraetai teenager, who works as a barista but wants to join the police force to work as a profiler, said she was so upset her friend and father had to report the theft.
"I felt violated. The police could hear me crying in the background.
"[Thieves] are not going to care, especially about my jacket, they'll probably throw it in the bin. I almost felt sick because I could imagine someone, for want of a better word, being a dick and putting it on. Like trying to be funny. I would hate to think that some thief had my jacket on.
"I just want my jacket back. The car, I will miss it and it was truly one of a kind, I loved it ... but the jacket, I can't replace it."
Ms Horner-Pascoe is also appealing to anyone who knows anything about the theft to return her kit because it will have to be replaced before the March championships.
Those replacement costs are difficult to bear because she has to fund the trip herself. She has already paid $2000 and friends and family have raised $1700. There is still $1500 to pay before the games start.
Her family has a water-carrying business in Maraetai but all the rain this summer has made it a difficult season for father Warren, who is not in a position to help her out.
"I'll go without spending money I want to play that much," she said. "I just need my stuff."
HELP US
Anyone who has information can contact newsdesk@nzherald.co.nz