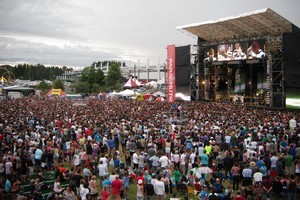 Hundreds of struggling families have taken up Parachute Festival's offer of $1 family passes and organisers are confident that they will see regular numbers at this weekend's event.
Last week, the 21-year-old Christian music festival dropped the price for a pass for two adults and three children from $460 and let families pay what they could afford - with a minimum of $1.
The initiative was put into place to boost ticket sales after a sluggish start which the festival put down to last year's financial pressures such as the Christchurch earthquakes and financial crisis.
One of the festival's organisers, Luke Oram, said that by yesterday 550 families had bought the "pay what you can afford" tickets.
"And that was just in the space of about two and a half days, so we're pretty blown away by that uptake. It seems to have really taken off," he said.
As families register for the tickets, there is space to share their story and why they could not afford to pay full price. Some had left "amazing" stories.
Mr Oram said they were surprised by how many people were genuinely taking them up on the offer because he expected there might have been a number of people taking advantage of it.
"I think we've been surprised by how many people are genuinely struggling. There seems to be a lot of goodwill and unfortunately a lot of struggling families as well, so it's good to be able to help them out."
Mr Oram expected the family passes would continue to sell steadily and they were preparing themselves for a big week in the lead-up to the event which starts at Mystery Creek, near Hamilton, on Friday.
"I don't think we were prepared for it to be so popular, so we've been pretty flat-tack."
He said the cheaper tickets had helped boost numbers because parents can bring as many children as they like as long as they were immediate family.
Organisers expect to see similar numbers at the festival as in previous years - last year's event attracted 24,000 people.
After announcing the $1 tickets a number of Parachute's sponsors pitched in and donated items to stop it from losing too much money from the initiative.
Mr Oram said they would see how this weekend goes before deciding whether they would continue with the "pay what you can" tickets next year.
The number of summer festivals had ballooned to 22 in recent years, but Parachute's point of difference remained being an alcohol- and drug-free family-friendly event.
This year's line-up includes Avalanche City and Casting Crowns, Relient K and The Almost.
Parachute was the second festival to acknowledge that difficult financial times had affected ticket sales.
Last Friday's Big Day Out was the last to be held in New Zealand after organisers said they could no longer afford to bring it to the country. At the end of the day the event allowed long-time fans in for free if they presented a Big Day Out ticket or T-shirt from previous years.