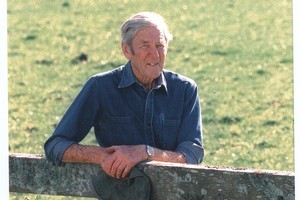 Conservationists view Aucklander Jim Holdaway as the father of the Hauraki Gulf Marine Park
Jim Holdaway
1918-2012
Few New Zealanders did more to promote the Hauraki Gulf than Jim Holdaway. For decades, he fought for greater protection of the gulf and its islands.
He firmly believed the waters on Auckland's doorstep were a treasure and part of the nation's natural heritage and he did all he could to keep the maritime asset under public control. In conservation circles, many consider him the father of the Hauraki Gulf Marine Park.
Besides that legacy, he assiduously promoted the creation of regional parks and walkways.
Born in Carterton, Mr Holdaway moved north and went to Whangarei High School.
At the start of World War II, he joined the Royal New Zealand Air Force. He completed his training in Canada, graduating with the highest honours on his course.
In 1942, he was awarded the Distinguished Flying Cross for bravery, carrying out missions with determination and courage.
In 1944, he received a bar after again showing resolution as a pathfinder for heavy bombers in an attack against enemy targets. The citation for his second award noted that the flight-lieutenant returned to his base from a raid over Germany on one engine after his Mosquito fighter- bomber was hit by shrapnel.
In 1945, while still in England, Mr Holdaway married Ann. He brought her home to New Zealand and they started a market garden in Northcote.
Later, when approaches to the new Auckland Harbour Bridge cut a swathe through the North Shore, the Holdaways bought a 200ha farm in Dairy Flat.
In the early 50s, Mr Holdaway entered local body politics as a Northcote Borough councillor. He was Mayor of Northcote from 1959 to 1963 and then made the jump to regional politics, helping create the Auckland Regional Authority. For 19 years he was a member of Hauraki Gulf Maritime Park Board. His love of nature saw him serve on the Tree Council for many years and was its honorary president.
In the gulf, he was a founding trustee of the Hauturu Supporters Trust, which works to support the special features of Little Barrier Island. He was the first chairman of the Motutapu Restoration Trust.
He loved birds and could be considered a "twitcher" - always keen on sighting a rare species. He was a terrier on the issue of weeds invading the gulf, and did alll he could to eradicate menacing species which threatened the recovery of native plants.
Generous hosts, the Holdaways opened their Northcote property - an urban oasis of native trees - for the many causes they supported. Jim Holdaway is survived by Ann and their children, Nigel, Mark and Sarah.