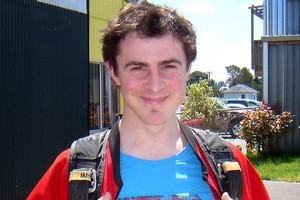 When doctors told Ben Khouri he had six weeks to live, the 23-year-old sat down with his family and wrote a "bucket list" of activities he was determined to do before he died.
The son of former Waikato Chiefs team doctor Zig Khouri then defied the odds, surviving six months, during which time he met All Blacks, raced cars, had a celebrity chef cook for him, joined a pub quiz, flew in a helicopter and raised a puppy.
Ben died in late October after a 17-month battle with acute lymphoblastic leukaemia.
"But he never felt sorry for himself," mum Helen Khouri told the Weekend Herald at the family's Pauanui beach house, where the couple and their two remaining children, Christina, 25, and Hannah, 21, sought solace during their first Christmas without Ben.
"He never complained, not once. He was so positive. He used to say his cup was half full."
A persistent cough at Ben's graduation from Otago University in May 2010 was the first sign something was amiss with the aspiring medical student's health.
A blood test confirmed leukaemia and Ben was whisked to Waikato Hospital to immediately begin chemotherapy.
After five months of intensive treatment, Ben had lost his hair, weighed only 54kg, developed pancreatitis and diabetes and needed surgery for abscesses in his veins.
Christina, a bone marrow match, flew home from France for the gruelling transplant in September 2010 at Auckland City Hospital.
Dr Khouri took leave from the Chiefs and as a GP at Hamilton East Medical Centre, Mrs Khouri from her job as an occupational therapist, and Hannah put her nursing studies on hold.
By that Christmas, Ben was in remission. He gained weight, his hair had grown back and life, for a while, was getting back to normal.
Dr Khouri went to South Africa with the Chiefs in April last year but three days after he arrived, Ben was delivered a devastating blow.
"They took a blood test and told him his leukaemia had come back."
Without further chemotherapy, they estimated Ben had between two and six weeks to live.
"Ben had had enough. He made the decision he didn't want it. He said to Helen, "I don't want to spend another day in hospital and I don't want to die in hospital'."
Dr Khouri and Christina returned home and the family united to spend the rest of Ben's life with him.
"We ended up with 191 days, six months. It was a tough six months for all of us. He was on high-dose steroids, he got very weak and eventually he couldn't walk, was in a wheelchair, but still no complaints. He was always smiling and happy."
From then on, Ben - "an intelligent kid" who studied anatomy - made it clear he did not want to be around sad people, and he wanted to do as many activities on his wish list as possible.
A movie buff, he loved the idea of a night out in Las Vegas The Hangover-style, but instead "suited up" for a night of gambling with friends at SkyCity Casino.
He went to Rainbow's End, sat in a corporate box at a Chiefs game, held a pub quiz at home, bought a new car, went to Cirque du Soleil, went bungy jumping in Rotorua and hot-air ballooning in Hamilton, organised a pizza night, had a family cook-off competition in the style of television show Come Dine with Me, and even managed a day at Hamilton Zoo on a mobility scooter.
Ben, and about 25 friends and family, each got a distinctive tattoo of his full name, Benjamin, written in Arabic a nod to his Middle Eastern ancestry.
Christina organised MasterChef NZ winner Nadia Lim to cook a meal for Ben, who was "a little star struck" when she turned up at the family's Hamilton home on the night of the MasterChef final.
During the Rugby World Cup, Ben met All Black captain Richie McCaw and some of the players, including Daniel Carter, when they visited Waikato Hospital, where he was having ongoing blood transfusions. He had his photo taken with them.
The family said they were grateful to so many for their kindness and generosity, including those who donated blood to Leukaemia and Blood Cancer New Zealand for Ben.
Next week, his loved ones will try to pick up their lives, but they say they will never stop missing Ben, and his loss has inspired them to live life to the full.
Blood cancers
* Blood cancers can strike anyone of any age, at any time, without warning.
* Six New Zealanders are diagnosed with a blood cancer every day, or 2200 people a year.
* Blood cancers combined (leukaemia, lymphoma and myeloma) are the fifth most common cancer in New Zealand.
* Leukaemia is the most common childhood cancer.
* Acute lymphoblastic leukaemia is the most common type of leukaemia in people under 20.
* You can help by donating blood, or taking part in Shave for a Cure week from March 26.
* For more information, visit leukaemia.org.nz