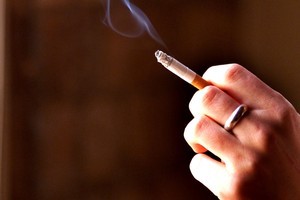 What punitive measure will Auckland's health bosses come up with next to try to bully recalcitrant patients into line? Introduce snap fines on oldies who forget to take their morning blood-pressure medication?
Smoking cigarettes is a nasty and unhealthy pastime, but it's not illegal and the new campaign by the Cancer Society, the Auckland Regional Public Health Service and local district health boards to have smoking banned from the city centre, parks, sports grounds, and assorted other public open spaces is totally overboard.
It reminds me of the zealots who lost their fight against the legalisation of prostitution, so regrouped and tried to win their battle by bylaw instead. It took the courts to remind them and their Ma Grundy councillor allies that Parliament was boss.
Likewise, the health crusaders have failed to convince parliamentarians to add tobacco to the list of prohibited drugs, so now they're trying to get their way by stealth.
In my first newsroom - the old Auckland Star - the smoky fug towards the end of the working day infiltrated your eyes and nose and hair and clothes. Chances were, non-smokers like me ended up sharing desk space and a nicotine-encrusted phone with a smoker. Then it was off to the pub for more. The eventual banishing of this filthy habit from the workplace, including bars, restaurants, buses and other indoor public spaces, was a glorious victory for public health and I celebrated.
But then - as now - I had no wish to go for the jugular and ship all those who'd blown smoke over me for years off to re-education camps.
Forcing them out on to the street in the wind and the rain to sneak a fag seemed punishment enough. They were suffering an addiction, after all.
Today's health police are obviously made of sterner stuff. They are pushing Auckland Council to increase the ban on smoking to just about anywhere within the old city walls. Where smokers will be able to have a legal gasp is not clear.
If I were a plot theorist - or fat - I'd be starting to speculate about what other targets the newly emboldened "public health" crusaders had hidden up their sleeves. A round-up of the obese, perhaps? After all, they're as big a drain on the public health purse.
Tracking down the comparative figures is difficult. In 2004 the Cancer Society claimed the cost of smoking-related health care to the taxpayer was about $250 million a year, while the anti-smoking group Ash put the "tangible cost of smoking" in 2005 at $1.7 billion.
In 2006, Prime Minister Helen Clark labelled obesity and tobacco "these two major killers" at a World Health Organisation conference in Auckland.
She told delegates "obesity is a time bomb for New Zealand and the Pacific", estimating it was costing the health budget $303 million a year.
In 2009 a report put the cost at $900 million - heading for the top end of smoking health costs.
The number of victims are similar, with about 21 per cent of adult Kiwis regular smokers and 27 per cent of us clinically obese.
Today the talk is of banishing smokers from Queen St, but what about next week? Cleansing the city of recidivist fatties with weigh-ins outside Smith & Caughey's and the Britomart station and spot fines for anyone drinking sugar-laden Coke in public?
They say it's to protect children from second-hand smoke and preventing copycat behaviour. One suspects the biggest risk of both occurring is in the family home, which doesn't seem to be included in the present proposal. As for encouraging new smokers by example, it's hard to imagine the furtive, addiction-driven smoking you see behind bus shelters and work entrances these days as something teens would see as sexy.
Smokers now tend to be apologetic about their addiction. Hounding them further is just vindictive.