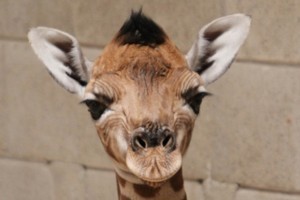 A baby giraffe was born at Auckland Zoo this week.
The yet-to-be-named female calf arrived on Monday at 6.40pm after a three hour labour.
The calf, standing at around 1.8m, is the 30th giraffe to be born at the zoo.
Auckland Zoo Pridelands' team leader Nat Sullivan said mother Rukiya and the leggy newcomer have undergone vet checks and are in good health.
"A giraffe birth is always exciting to witness however the birth of a female calf is significant to the Australasian region, as she is valuable for the breeding programme. After Rukiya's previous pregnancies all resulted in males, we were hoping she would produce a female," she said.
"Both mother and calf are both doing well, but we're going to give her and her calf some time to bond in private like they would in the wild."
The zoo said the long-legged baby was on its feet about 30 minutes after birth.
Rukiya and her calf will be gradually integrated with other giraffe, zebra and ostrich in the giraffe paddock in Pridelands, and zoo visitors can expect to see them out and about within the next month.
The newcomer is the fourth offspring of 10-year-old mum Rukiya and 13-year-old Zabulu, who are also parents to Jelani - now at Werribee Open Range Zoo, and Forrest - now at Australia Zoo.
Their first calf, born in May 2006, did not survive.
Auckland Zoo's giraffe population now stands at four after the arrival of female giraffe Kiraka from Taronga Western Plains Zoo last year.