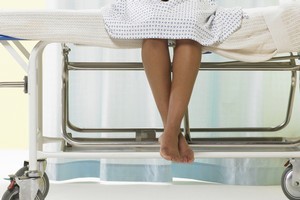 A pregnant woman who claims she lost 10kg while in hospital because of inedible food is disappointed a health boss won't eat the same fare for two weeks.
Marise Murrie, 39, dropped to 62kg while being treated for two weeks for an illness last year in Palmerston North Hospital.
Then pregnant with her third child, Mrs Murrie says she can be a fussy eater. Wary of what "mystery meat" she might be served she opted for vegetarian options - a miserable experience because the hospital treated her as an unofficial vegan, she said.
Breakfasts consisted of "glue-like" cold porridge made with water and soy milk, tasteless stewed fruit served as snacks, lunch was some variation of "cold, congealed" red kidney beans and dinner: more beans with some form of cooked vegetable, she said.
"They are etched in my brain ... You'd lift up the lid and the smell would make you want to immediately slam it back down."
Mrs Murrie issued a public challenge to MidCentral District Health Board chief executive Murray Georgel to eat his hospital's fare after a letter of complaint wasn't replied to.
"The CE's on something like $450,000 a year - I would suggest he's never had to eat what his hospital serves up. Could he survive on that food for two weeks? I don't think so."
Mrs Murrie said she understood the hospital had to provide for a wide range of dietary needs and patients should not expect five-star treatment - but the food should at least be edible.
Fruit or other garden salads or cornflakes and milk would have been simple changes, she said.
Mr Georgel - who a MidCentral DHB spokesman said earned about $520,000 - turned down the challenge. Initially, a spokesman for Mr Georgel said he had "chosen not to reply".
TWO MENUS
The hospital "how to lose 10kg in two weeks vegetarian diet":
Breakfast: Cold porridge.
Lunch: Congealed red kidney beans.
Dinner: A repeat of lunch, with vegetables.
A typical prison menu
Breakfast: 30g cornflakes, 3 pieces of toast, 15g margarine, 20g spread, 1tsp bran, 35g sugar, tea.
Lunch: 3 sandwiches - 1 cheese and onion, 1 spaghetti, 1 vegemite; 1 piece fruit; tea.
Dinner: Italian saveloys, spaghetti, 2 vegetables, tomato and garlic sauce, 1 piece fruit, milk, tea.
Supper (provided with dinner): 2 slices bread, 15g margarine.
Source: Corrections Department, for males. 2007 data