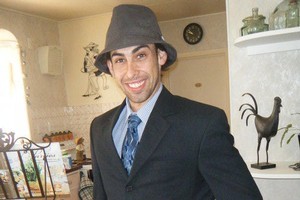 William Hoskins was a fun-loving man with a heart of gold and big dreams.
But the 26-year-old's life was cut short when he was hit by a car as he made his way home from celebrating a cousin's wedding.
Mr Hoskins' family were yesterday struggling to come to terms with the loss of the man known as Gremz - the childhood nickname after the Gremlin movie because of his spiky, wiry hair.
Mr Hoskins' father, Greg Hoskins, told the Waikato Times he would "definitely" be at court to see the man charged with his son's death.
"I want to see his face ... my son was a legend and his life has been snuffed out."
Philippa McDonald, partner of Mr Hoskins' father, told the paper William would be sadly missed.
"He couldn't do enough for people. If someone needed something, he would make it happen."
Last night, police said a man had been charged over the fatality. He will appear in court on Friday.
Early on Sunday morning, Mr Hoskins left his cousin's wedding. His family believe he had just begun a long walk back to the Riverside Cambridge Motel, where they were staying, when a car hit him on Marychurch Rd about 4.30.
A passing motorist found the Hastings concrete worker critically injured on the side of the road. He died there shortly after emergency services arrived.
Mr Hoskins' father, younger brother Daniel, Daniel's girlfriend Casey and Ms McDonald had returned to the motel earlier in the night.
They learned of the tragedy when they reached a cordon in the road the following day.
The family had travelled from Hawkes Bay for the weekend to celebrate the marriage of Erin Hoskins to Ollie Cameron at the Matangi home of Mr Cameron's parents.
Ms McDonald said Mr Hoskins had had a fantastic evening surrounded by family and it was a tragic end to a beautiful wedding.
The family spent yesterday in Cambridge before returning to Hastings.
Mr Hoskins had been working with his father in the family business JMC Concrete Placing for five years and was a "hard worker", Ms McDonald said.
"His dad has already said he's going to be irreplaceable."
Mr Hoskins had lived in the family home in Hastings all his life, more recently sharing the house with a few mates after his father moved out.
He was the older brother of Elyse, 24, and Daniel, 22, and had plans to buy a house and travel overseas.
"He was a hard case, he was cheeky, he had plans," Ms McDonald said.
"He was doing the KiwiSaver scheme and put as much as you were allowed into it."
Mr Hoskins was also saving to travel overseas with his Melbourne-based sister. "He said to Elyse, 'Where are you going? I'm coming'."
Elyse was on her way back from a South African holiday when he died.
Ms McDonald said the former apprentice electrician had made a tradition of hanging lights inside and outside the family's home every Christmas and they would miss having it lit up like a Christmas tree.
Mr Hoskins' mother, Delwyn Hanna, was yesterday being supported by family in Hastings.
Police said they had charged a 47-year-old Waikato man with careless driving causing death. He will appear in Hamilton District Court.
In the past five years, there have been 10 fatal accidents along State Highway 1B, the route between Taupiri and Cambridge. Marychurch Rd is part of the route.