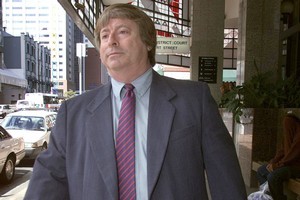 A New Zealand man faces a prison sentence after taking sexual pictures of a young girl in Russia.
He is one of the first New Zealanders to be convicted of a crime committed against children overseas.
Glenn Roderick Holland, 67, was found guilty last month of being a party to sexual conduct with a child outside New Zealand after Customs officers in 2007 found hundreds of pornographic photos on his computer, including those of a 7-year-old girl with another man.
The Auckland police child exploitation team, led by Detective Tony Bruce, believed Holland took the photographs and were able to lay the serious sex charge when they learned the identity of the victim in Moscow.
Usually, children and teenagers exploited overseas in child pornography are never found.
For the first time in such a case in New Zealand, investigators were able to interview the victim and her mother, who flew to Auckland to give evidence against Holland.
He pleaded guilty to a representative charge of of possession of objectionable photos, but denied the sexual conduct charge.
In the Auckland District Court, Judge Chris Field ruled Holland did take the photograph of the 7-year-old - among others found on another hard drive - and found him guilty, refusing bail before his sentencing next month.
Judge Field indicated it was likely that Holland would be jailed.
Holland has travelled widely and built a career of taking sexually provocative pictures of young girls, taking advantage of lax child protection laws in some European countries such as Russia and Germany.
Holland has a long history of taking provocative photographs of young girls, as well as of sexual offending against models.
He was sentenced in 1988 to 2 years' jail in Australia for sexually assaulting a young girl he had with him for a photographic modelling assignment.
He returned to New Zealand in 1994, and in 1998 an Auckland judge ruled he did not cross a legal line in taking pictures of two young sisters wearing suspenders, underwear, and showing a breast through a filmy garment.
He was charged with performing an indecent act on the girls and sexually assaulting one of them but Judge Russell Johnson ruled neither incident had taken place.
In his defence, Holland said he had photographed girls for 20 years in an artistic, not a sexual way.
Then in 2000, he was fined $6000 for importing material described by Judge Robert Kerr as "grossly disgusting, objectionable and pornographic ... [which] could only appeal to a pervert".
Holland's email correspondence, which was produced as evidence, showed him thanking people for the "naughty photos" they had sent him and telling others he had "virtually downloaded every photo on the net that any of us would wish to own".
Two years later, parents and schools posted flyers warning of the child photographer "canvassing" Auckland suburbs for young girls. He would approach mothers of girls at shopping centres saying their children were beautiful and could make money as models.
Since then, Holland gained residency in Germany and ran a pay-per-view website with thousands of images of scantily clad girls.
The website was shut down in 2005 after a TVNZ investigation and he then moved to Russia, where he married a woman with three young children.
Netsafe chief executive Martin Cocker praised Customs and police for the two-year prosecution and said the laws to protect children outside New Zealand were created with child-sex tour operators in mind.
"People could go to another country, offend against children, then come back," he said.
"Clearly that wasn't protecting children and those people were coming back into our community.
"These people also operate criminal enterprises across borders, by using the web to sell photos.
"It becomes even more important to have laws and law enforcement which also spans across borders."