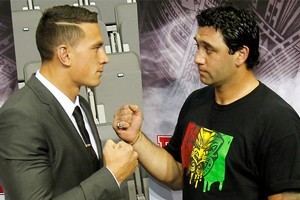 Sonny Bill Williams' next boxing opponent has been axed after the Weekend Herald revealed he was behind bars for failing to turn up to court this week to face criminal charges, including possession of methamphetamine.
An arrest warrant was issued for Richard Roretana Tutaki, 33, after he did not appear at the Auckland District Court on Tuesday.
The Weekend Herald can reveal that Tutaki, whose bout against the All Blacks midfielder was to take place at Claudelands Arena in Hamilton on February 8, faces more than 10 charges dating back to last February.
They include possession of methamphetamine and drug utensils, breach of bail, three counts of receiving stolen property, unlawfully getting into a motor vehicle, dangerous driving, failing to stop for police, failing to remain stopped and giving false details to police.
Police spokesman Inspector Gary Allcock said Tutaki was arrested later on Tuesday at his girlfriend's home in Wiri, south Auckland.
He was refused bail and will remain in custody until he appears in court again next Tuesday.
The fight promoter, Khoder Nasser, broadcaster Sky TV and the New Zealand Professional Boxing Association did not know Tutaki was in custody until the Weekend Herald told them.
Contacted by Boxing Association chairman Lance Revill last night, Mr Nasser instructed that Tutaki be dropped from the card.
It is understood that Tutaki had trained either very little or not at all for the fight, and there were concerns in boxing circles about his physical and mental condition.
One boxing source said there was no way Tutaki, a 40-fight journeyman who calls himself Tutaki Express Train and has a record of 19 wins and 21 losses, was in a fit state to enter the ring.
Last night Sky TV was still advertising the fight and taking bookings through its website.
Before Tutaki was axed, Sky chief executive John Fellett, who is on a hiking holiday in Las Vegas, said he was unaware of Tutaki's legal issues.
Fighters facing charges was not uncommon in professional boxing, Mr Fellett said.
"This is the fight game. Don King is an example of a shining citizen of the fight game and he went to jail convicted of [manslaughter]. And Don King is one of the more reputable guys I've worked with in the fight game."
Sky was not a promoter of the event and was only contracted to broadcast it.
"All we have agreed to do is show up the night of the fight with cameras."
The fight for the vacant New Zealand heavyweight title was sanctioned by the Boxing Association.
Mr Revill said another opponent would be found to fight Williams.
Contenders include NZ heavyweights Joe Wilson and Junior Patti.
He said ultimately Mr Nasser would choose the opponent.
"Khoder Nasser has got the money and he is putting all the money up for the fight," Mr Revill said.
Williams, a dual rugby and league international and one of Australasian sport's most bankable stars, has had four professional boxing fights.
The last of those was against Alipate Liava'a, an overweight 43-year-old gospel-singing sickness beneficiary dubbed "The Lard of the Ring" by Australian media, last June.
That fight was billed as fundraiser for Canterbury earthquake victims, and Williams gave $100,000 from his purse to the earthquake relief fund.
February's fight against Tutaki was intended to bolster Williams' credibility as a serious boxer.
Pay per view boxing has been a successful financial venture for the world cup-winning All Black. He is believed to have cleared a significant six figure sum from the Liava'a fight even after his donation.
Sky sells Williams' fights for $39.95, which is at the upper level for pay per view events. Former heavyweight title contender David Tua's last fight, against American veteran Monty Barrett, was priced at $29.95.
Richard Tutaki: The charges
* Possession of methamphetamine and drug utensils
* Breach of bail
* Receiving stolen property
* Driving charges
* Giving false details to police.