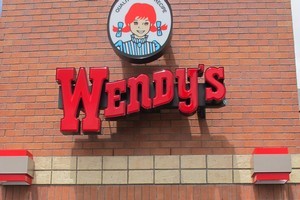 A huge man smashed tills, flipped tables and attacked a police officer when his order of Wendy's burgers came out wrong.
Staff at the Lynfield store locked themselves in the office to escape the burger rage, while the police sergeant emptied a can of pepper spray on him to no effect.
The struggle lasted 10 minutes and spilled out to the restaurant carpark, where five officers eventually subdued the man and arrested him.
David Junior Ilolahia, of Blockhouse Bay, is to appear in court today charged with threatening behaviour, assaulting police, disorderly behaviour and resisting police.
The man is said to have made a "very big order" from the Wendy's drive-through before 11am yesterday.
During the five to 10 minutes it took for the order to be made, he asked for a receipt to check his order, according to one person at the store.
He then flew into a rage saying he did not have enough burger patties.
"The customer was a bit upset at his meal," said Inspector Gary Allcock. "He went nuts."
Mr Allcock said the man "smashed the place up", flipping tables and causing staff to flee.
A police sergeant from Avondale arrived, but the man picked him up and threw him to the floor.
The sergeant may have broken his hand. But he told Mr Allcock that "the offender came off worse".
A can of pepper spray was emptied "but that didn't stop him", Mr Allcock said.
"The struggle went through the restaurant and out on to the carpark. It went on for about 10 minutes."
Police back-up arrived and finally restrained the man, who was then taken to hospital for treatment.
"He's a very big man. A very strong man," Mr Allcock said. "All this over a burger."