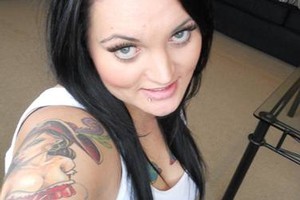 Cheeky copycats are having a crack at making quick cash by auctioning a spot on their bottom for a tattoo of the winner's liking.
The Trade Me auction "YOUR tattoo on my Bum!!'', listed by Lower Hutt woman Tina Beznec, has made international news and received more than 93,000 views since it went live on Wednesday.
The 23-year-old says the winner will get a 9 x 9 centimetre space on either cheek for a design of their choice.
Bids were far from bottom dollar, reaching $10,199.99 _ more than the $10,000 reserve.
Twenty percent of the price will go to a charity of the winning bidder's choice and Tina will keep the rest.
"I deserve it, I have been made redundant twice over the past year,'' she said.
Since her auction went viral, three others have also decided to sell a piece of their skin.
Two listings called "Your tattoo on my bum too'' have appeared on Trade Me in the past 24 hours.
Hibiscus Coast woman Marie said she thought she would jump on the "bum tattoo band wagon''.
"Im a single Mum struggling just to pay the bills. (Like a lot of parents!) I have a special needs son. Please help! and I will give 20% to the animals at the SPCA,'' her listing said.
Bids started at $2000, with one so far.
Another user, Stephen from Wellington, said he was friends with Tina and was also willing to offer a portion of his backside as a canvas.
"Forget Billboards my son, what you need is a Bumboard. And have I got the bum for you.''
His auction starts at $1000 but has yet to attract any bids.
A third copycat is offering a spot on her leg.
Hayley, from Wellington, said she tried to auction space on her bottom several years ago but the plan was canned "because Trade Me was so uptight''. She is offering a spot on her leg instead so the tattoo "will be seen''.
Tina, 23, said today the attention she had received since posting the auction was "overwhelming''. She had to take this afternoon off work to answer her phone.
Her story has made it to Australia and she has been phoned by a news agency in Los Angeles.
She said there was no limit to what could be put on her behind, but the difficulty would be finding a tattoo artist willing to do the job if the design was too controversial.
"[Some say] we won't do it if it was this.''
She would not get the tattoo removed because she could not be bothered going through the hassle, she said.
However, she had received some bum raps from the public, with several complaints to Trade Me.
"A few people have had concerns, some people are offended ... some are mildly outraged,'' said spokesman Paul Ford.
"When you look at the ratio of views to complaints - closing in on 100,000 views and 13 complaints - it's actually not too bad.''
The auction was a bit of an "edge case'' and Trade Me was keeping an eye on it, he said.
Tina, who already has other tattoos, said she was a little upset by the negative feedback.
"The thing that has bothered me is just some people judging ... this is just a crazy, get-rich, help charity out [campaign],'' she said.
Undeterred she will get the winning design done at a place of her choice.
A framed photo of the completed design would be sent to the winner, who could watch it being done if they lived nearby.