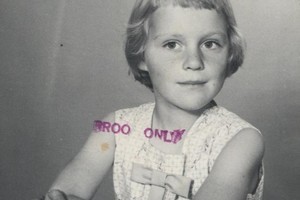 She's been in his attic for years, but Auckland man Andy Gilbraith still doesn't know the identity of this little girl.
Mr Gilbraith discovered a decades-old baby album several years ago as he was converting the attic in his Royal Tce home in Sandringham.
"I climbed up there, and there were cobwebs everywhere and a few bits of rubbish, and there was this old suitcase," he says.
"I pulled the old suitcase down and opened it up, mainly because a friend of mine collects old suitcases, so I thought I'd give it to him. I opened it up, and I just found that inside."
He remembered the album as he was moving house earlier this week and gave it to nzherald.co.nz.
The "Milestone Album" contains a series of black and white portraits of a little girl with short blonde hair.
The photographs chart her life from age one to around age five. The last photograph shows her wearing a white lace dress, perhaps for her First Communion or as a flower girl for a wedding.
The yellowed, water-stained pages are meant to record the girl's name, birth date, first words, home addresses and other information - but aside from the photographs, the pages are blank.
There are also two loose copies of a photograph with a stamp from the Auckland Star. It shows two young men, one in an apron and another in overalls and a skinny tie, manufacturing a men's leather sandal with an industrial machine.
After a bit of detective work, nzherald.co.nz has narrowed down the possibilities.
A logo on the album's title page shows it was produced by Crichton d'Ora Limited Photography, located on 338 Karangahape Road.
Crichton d'Ora first advertised "'Milestone Club' child studies" in 1960-1961 and moved to a new address by 1964, according to post office directory archives at the Auckland Library.
It is likely the baby pictures were taken within that timeframe, meaning the girl would be in her fifties today.
The Auckland Star picture seems to be from the around same era, judging from the clothes and hairstyles.
We showed the picture to T Clark Men's Shoes manager Anton Melamed, who said the shoe-making machinery could date from the 60s or 70s.
During the timeframe of the baby album, the Royal Terrace house was owned by a painter and decorator named Frederick James Owers, post office records show.
He was first listed at that address in 1921 and stayed there until at least 1966. By 1976, Mr Owers was gone and the house had been rented out as two separate flats.
If the suitcase and album belonged to Mr Owers, the people in the photographs could be his relatives - perhaps his son and granddaughter.