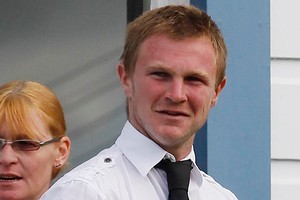 Two weeks after he was sentenced for drunkenly streaking across a pitch at a Rugby World Cup match, Maurice Bryant found himself stuck on a roof after a few beers, needing rescue.
Police called firefighters to get the 18-year-old who was lying on the roof of the Whangamata surf lifesaving club and had to be helped down.
"I was just looking at the stars", the Rotorua teenager told the Waihi District Court yesterday when he appeared on a disorderly behaviour charge arising from the December 30 incident. .
He had been sentenced two weeks earlier at the Rotorua District Court after pleading guilty to going on to a playing surface at a major sporting event without authority.
At that time Bryant was drunk and had stripped naked before he ran on to the field with an Irish flag draped over his shoulders at Rotorua International Stadium where Ireland were playing Russia on September 25.
The court heard then how Bryant told police that he did it because it was something that he had always wanted to do.
After being body-slammed by security staff he spent the rest of the match wrapped in the flag in the back of a police van with the dubious honour of being the first person arrested under RWC legislation for streaking.
Yesterday, dressed in a white shirt, black tie and jeans, Bryant pleaded guilty to his latest charge.
Duty solicitor Mike Curtis said Bryant had phoned police to apologise and also tried to contact the Whangamata fire brigade but couldn't reach them.
Community magistrate Lesley Jensen said alcohol had clearly played a part in affecting Bryant's behaviour and he had been a nuisance for fire services and police staff at one of their busiest periods of the year. She denied his request for name suppression.
"Your behaviour had an impact on rescue services availability for other emergencies ... you need to ensure that you find a safe place to sleep," she said.
To which Bryant replied, "I was just looking at the stars ... they [the fire service] must have thought I was asleep".
Ms Jensen then said "well next time maybe you should sleep on a hill or a place that doesn't involve anyone else."
She deferred his sentence, placing him on a good behaviour bond for six months and ordered him to pay court costs of $132.89.
From the dock he apologised to the court, the police and the fire service shortly after a summary of facts was read, saying "I'm sorry for wasting your time, it won't happen again.".
Outside the court, an embarrassed Bryant tried to rush away with his girlfriend when approached by the Herald.
Asked if he could stay out of trouble for the next six months, Bryant blushed, tried to hide his face in his hands before responding: "um ... of course I will."
He then said he "wasn't that drunk - I only had about five or six beers."
Bryant's father, Andrew Bryant, would not comment when asked about his thoughts on his son's recent behaviour or whether he'd be placed on a curfew.
"I have no thoughts that I'd like to share, not with you ... but rest assured we are working on it."