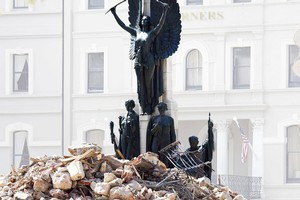 A Christchurch man who travelled to Scotland to donate a kidney to his ill sister never gave it a second thought - even after the February earthquake forced his family from their home.
Anaesthetist Duncan Williams, 51, is humble about the huge gift he gave his sister, mother of two Lesley Ross, who was facing renal failure and dialysis caused by polycystic kidney disease.
"Duncan right from the start said 'I will do it'. He didn't think twice, because it was his sister," his wife, Ruth Williams, told the Herald.
Dr Ross, 49, a paediatric consultant in Edinburgh, said there were no words to express her gratitude.
"My brother's home was hit by an earthquake around the same time I needed the transplant and, despite not having anywhere for his wife and baby to live, he did not hesitate to come to Scotland for the planning meetings and then surgery," Dr Ross told Scottish newspaper the Daily Record.
"He made no fuss. On the morning of the operation, I tried to hug him but he just shrugged and said, 'Let's get on with it'."
Dr Williams, who moved to New Zealand from Britain more than 20 years ago, saw it simply as something he had to do after testing showed he was an "extremely good match", Mrs Williams told the Herald.
Both Dr Ross and Dr Williams are doing well after their operations at the Edinburgh Royal Infirmary in late September - three hours for Dr Ross and four hours for Dr Williams.
Dr Williams was joined by his wife and their now 20-month-old son Matthew in Scotland during the transplant process.
"We were out of (New Zealand) for ten weeks because he wasn't allowed to undergo a long haul flight for six weeks after the operation. We had to be there a couple of weeks before the operation as well."
Within 24 hours of the transplant, Dr Ross felt the best she had in years, Mrs Williams said.
"And I think she was just so glad that it worked because she didn't want to have had to drag her brother over from the other side of the world, and then things not go very well."
Dr Ross told the Daily Record: "It has made a huge difference to my life and the lives of my children and family as well".
The Williams family are living in rental accommodation as they await further assessments on their damaged home in Christchurch's hill suburbs.
Dr Williams praised the transplant team in Edinburgh for their professionalism, and was also impressed by the communication between transplant teams in Christchurch and Edinburgh.