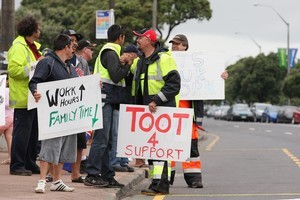 Did the Auckland Council cause the current ports dispute? There is much debate around what role, if any, the council should take during the stoush but Bernard Orsman cites ports expert David Wigmore's view that the council demand for the ports company to double its dividend from 6 to 12% over 5 years is the underlying cause of friction - see: Expert says council is behind wharf strife.
This is an example of how calls for politicians to 'stay out' of the dispute ignore the reality that political decisions have already had an impact. John Pagani reiterates his call for politicians to keep out of industrial conflicts. Pagani's claim that Len Brown has only encouraged the parties involved to resolve the conflict, without getting into the substance, is questionable given Brown's comments a few days ago that work practices needed to change to achieve the double dividend target.
Fran O'Sullivan criticises the mayor for having anything to say at all on the matter, pointing out that the ports company structure was set up to minimize political involvement - see: Weigh anchor and let them get on with it.
As the fundamental structure of the company is being decided, it is legitimate to ask if the owners of the Ports of Auckland - i.e. the council - can and should maintain a hands-off attitude. Longtime Labour stalwart Robert Winter thinks that not only should the council be up front but that the wider implications require David Shearer and Labour to 'step up and come out swinging on this issue.' He sees this as 'potentially, the defining first moment for Labour under Mr Shearer, and we look for clear leadership on what is now a matter of principle' - see: Not just a question for Mr Brown. Where are Mr Shearer and Labour?
As TVNZ reports, the dispute is now 'very serious' and both the union and the port company are set on increasingly risky courses of action - see: Risky for Ports to replace striking wharfies - expert. By the time it's over, sitting on the sidelines may not be an option for anyone.
A must read article today is Keith Ng's Association of Community Retailers. Again. Ng scolds the media for having goldfish-like memories as they continue to give credibility to the Association of Community Retailers - an organization that Ng and Rory McKinnon exposed nearly two years ago as little more than a front for the tobacco industry. Run by Glenn Inwood, who also runs PR for the Japanese whalers, the ACR follows a well-established PR technique used by tobacco companies around the world. If there is a battle between PR and good journalism then this article is depressing evidence that PR is winning hands down.
Over the Christmas break there were quite a few reviews of politics in 2011 - mostly pretty negative. To help get the last year in perspective you could read Tracy Watkins, Matt McCarten, Billie Jordan, Fran O'Sullivan and Cameron Slater.