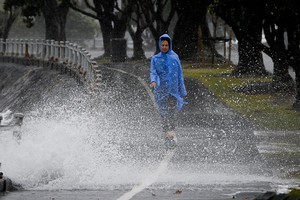 Relief from the rain-soaked summer is in sight - at least for a few days.
The North Island will endure another bout of rain before more settled weather moves in, said MetService meteorologist Daniel Corbett.
"Weather is a little bit like a rollercoaster ride. You have the ups and downs, and now we have one more little hump to get through with a windy weather system at the end of the week.
"But then things will start to settle down in the weekend and at the start of next week," he said.
The North Island should expect some showers this afternoon which will continue through tomorrow and Friday as a low makes its way over the country from across the Tasman Sea.
WeatherWatch said as the low begins to move over Fiordland National Park late tomorrow night, it will bring some much-needed rain for the drought-stricken South Island.
Yesterday, full water restrictions were put in place in Westland at Franz Josef Glacier and Ross after a long spell of sunny weather.
The low will also bring some more heavy showers to the North Island.
"It's going to be turning quite showery as we get a stronger north-westerly wind, so it might also be quite windy at times as we finish off the week with those outbreaks of rain.
"But as we head into the weekend, that westerly wind will take shape and that will allow the high pressure to build in and things will slowly start to settle down and start to improve," Mr Corbett said.
An umbrella might be a smart option for those going to the Heineken Open tennis finals on Saturday in Auckland, as light showers are expected. However, Mr Corbett said that come the start of next week there will be some "fine looking weather" as a high is set to hover over the North Island - just as holiday-makers are returning to work.
Mr Corbett could not say for certain how long the high would stick around, but his advice was to make the most of the more settled weather.
Niwa's three-month climate outlook predicts the soggy weather will hang around the North Island until at least March.
MIXED BAG
What to expect in the North Island:
Today: Fine in the morning before a few showers possible in the afternoon.
Tomorrow: Cloudy with a few showers that will turn to rain at night.
Friday: Heavy rain in the morning before easing to showers.
Saturday: A few light showers.
Sunday: Mostly fine.