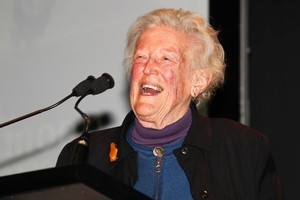 Margaret Mahy - Author
What is your favourite book?
That's an impossible question. But I do really like Nicholas Nickleby and other Dickens books.
Why?
They've got a lot of true things to say about life and the world, even though they're now of course very aged. I like the names of the characters and books like Nicholas Nickleby have a lot of drama.
How many times have you read it?
I must have read Nicholas Nickleby about three times, but not recently.
What is your favourite movie?
I've always been very fond of The Wizard of Oz.
Why?
I liked the transformation from black-and-white to colour when she goes into Oz. And I liked all the book characters, like the Tin Man and the Scarecrow - they were Dorothy's friends but they were all different. But I just think it was well done and I liked the songs and everything, not that I sing them, though.
How many times have you watched it?
I think it's been about four or five times now.