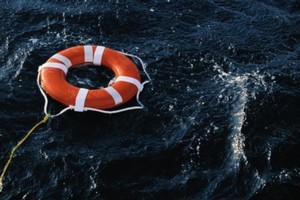 Dunedin man Graeme Wilson waves away any suggestion of bravery or heroism after saving a woman from drowning at Tokomairiro Mouth on Saturday.
"I'm just glad I was able to get the job done," he said last night.
However, Senior Constable Steve Griffiths, of Milton, said if Mr Wilson, 53, had not been in the "right place at the right time", the woman would probably have drowned.
"She is very, very lucky he was right there."
The 38-year-old woman and two men aged 17 and 24, all from Milton, were swimming at the mouth, when they got caught in the currents and swept out to sea.
A rescue operation was mounted and a helicopter was on its way, but Mr Wilson rescued the woman before it was needed, Snr Constable Griffiths said.
"There was a possibility we were looking at fatalities. The woman herself said she thought she was dead."
Mr Wilson, who has a crib at the mouth, said he was visiting a friend when someone came to the door saying there were people drowning in the ocean.
They rushed down to the beach to see a young man come out of the water and a woman and man about 200m out to sea in trouble.
Mr Wilson borrowed flippers and a buoyancy vest and swam out to the pair, thankful that they stayed together.
"The guy seemed OK to get in under his own steam ... so I grabbed the girl and swam her back and he followed us in."
They caught a wave, which helped them in. Otherwise, he might have been out there a while helping keep them afloat while a rescue was mounted, he said.
Mr Wilson described himself as a strong swimmer who did a lot of diving, but he did not recommend the mouth as a safe place to swim as even on calm days undercurrents could be very strong.
"Without the flippers and flotation, I wouldn't have got the girl."
Snr Const Griffiths said the woman and the 17-year-old were taken to Dunedin Hospital for treatment as they had taken in a lot of water.
A hospital spokeswoman said yesterday they were treated in the emergency department and discharged on Saturday.