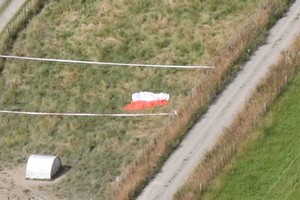 In scenes reminiscent of the 9/11 attacks in New York, a couple plunged to certain death to escape being burned alive in the hot air balloon disaster yesterday.
The couple leaped from the hot air balloon after it burst into flames an estimated 100m above the Wairarapa plains.
Chilling screams were heard as they plummeted towards the ground in view of local residents.
The couple landed in a rural area in Somerset Rd, just outside Carterton.
As soon as they leaped out of the balloon, it flew up "like a rocket" and was smothered in flames.
Their bodies were removed from the scene and taken to Wellington Hospital last night.
Resident Leanne Brown performed CPR on the two victims for several minutes until emergency services arrived.
She declined to comment apart from confirming she discovered the pair.
Nurses Annette Tempest and Jacqui O'Connor made their way around the downed power lines to find the couple lying motionless on the ground.
By that stage two fire officers had taken over administering CPR in the hope of reviving them, but it was all in vain.
"The woman who was in the house came out and performed CPR.
"I'd say [she] would've been doing it for about five minutes and then the fire officers were there for probably another two minutes."
Eyewitness Bevan Lambess said the leapers had no chance of survival.
"I had seen the balloon earlier and it was up quite high. I got closer and it was actually the top power line."
Tempest said while her profession accustomed her to death and tragedy, she nevertheless remained in shock when recalling the tragic accident. "It's just horrific to see that. You're just thinking that it can't be real. But we've got children staying with us so we're getting on with our day."
The women came across the smouldering wreckage of the balloon 250m away.
Power lines were strewn about after the balloon crashed into them.
"At that stage the balloon was on one side and was charred and the police were hosing it down."