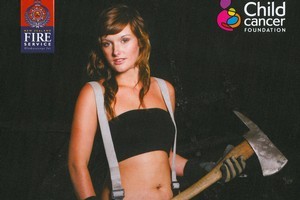 Stripped-down firemen are popular pinups, but their female counterparts are getting their kit off, too.
In 22 years of stripping off, the firemen have raised more than $665,000 for the Child Cancer Foundation. This year's men's calendar shifted almost 50,000 copies, but the 10,000 copies of the first female firefighter calendar sold out.
Les Presling from the NZ Fire Service said the service now had hundreds of female firefighters "so they deserved their own calendar" .
A dollar from each sale goes to the foundation, and the rest of the money is used for travel, uniform and accommodation costs for sporting events such as the World Firefighter Games.
The charity-calendar business is booming.
For the fifth time, senior students at Massey University's veterinary science school have bared all for a calendar, and they are donating 10 per cent of the proceeds from their calendar to the Christchurch SPCA.
"We wanted to give to an animal charity for obvious reasons and we voted on Christchurch because of the quakes," said student Rosie Keen.
"We had a lot of fun with the photos but the animals didn't always co-operate. For one shot the cows wouldn't come anywhere near us, so it was a bit different to what we had in mind."
Singer Tiki Taane, DJ Stu Tolan and Almighty Johnsons actor Ben Barrington went shirtless for More FM's breast cancer awareness calendar.
It sold 10,000 copies and all the money went to charity.
And breast cancer survivors in Wellington - who are part of the same dragon-boating team - stripped off to show they were "vibrant, fabulous and sexy" despite what they have been through.
Joyce Elwood-Smith said the women - of all shapes and sizes - showed how indiscriminate breast cancer can be.
Meanwhile, lingerie-clad Harley Davidson-riding women raised $4000 for Women's Refuge with their Ladies of Harley calender and a group of Tuatapere residents bared all to help with the cost of repairs to the community's swimming pool in their Southern Men Working Hard calendar.