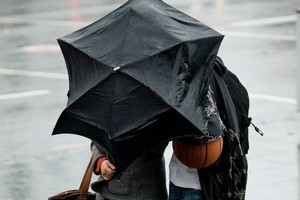 Rain, rain and more rain is set to douse the North Island all this week.
Yesterday's ASB Classic women's tennis final in Auckland had to be postponed until today as rain flooded centre court. And it is not just tennis-lovers who are suffering.
Forecasters predict the eastern Bay of Plenty, Gisborne and northern Hawke's Bay will continue to bear the brunt of the storm.
MetService had heavy rain warnings in place last night, and by yesterday afternoon rain gauges were reading between 120mm and 200mm.
Gale warnings were in place for Taupo, Taumarunui, Taranaki, the central North Island high country and the Kapiti Coast, as gusts of 120km/h are possible today in exposed places.
The MetService advised people to beware of swollen streams and rivers, slips and surface flooding. Wind and rain would cause difficult driving conditions just as many motorists were returning from holiday hotspots.
One woman was killed on Friday night after a car slid on the wet road and collided with another vehicle on State Highway 8, east of Manuka Gorge in Otago.
A vehicle travelling towards Milton slid in the wet as it rounded a corner and collided with a vehicle travelling towards Lawrence, police said.
A woman, who was the sole occupant of her car, died at the scene and two passengers from the other car were taken to Dunedin Hospital. The woman's name had not been released late last night.
WeatherWatch chief analyst Philip Duncan said the rain would continue until Wednesday, jeopardising the completion of the women's tennis today and the start of the Heineken Open men's tennis tomorrow.
"It will stay there until it rains itself out," Duncan said.
"Then the humidity will drag cloud and drizzle across most of the North Island."
The women's singles final between Flavia Pennetta and Jie Zheng has been tentatively rescheduled for 11am today.
The MetService is projecting just 0.1mm of rain between 11am and noon, the driest part of another wet day.
The National Institute of Water and Atmospheric Research blamed the rollercoaster season on the La Nina weather system, which brings warmer temperatures and higher rainfall.
NIWA's three-month climate outlook predicted the soggy weather would hang around the North Island until at least March.