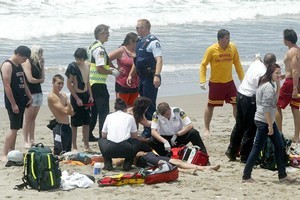 Two children swept out to sea by a rip at Papamoa Beach been taken to hospital in serious condition after a dramatic rescue today.
A 9-year-old Te Puke boy and a 14-year-old Tauranga girl, were rescued by lifeguards, along with two other beachgoers who got into trouble while trying to save the pair, who were pulled 200m out to sea by a rip.
The children had been swimming about 30m from shore with a older teen when they were caught in a rip at 1.30pm.
The older teen was able to swim sideways out of the rip and return to the beach safely but the younger two were carried out to sea.
Papamoa head lifeguard Shaun Smith, said the children were carried a long way offshore in a short time.
"They were a long way from the beach. Our lifeguards were surprised how far out they were. It was a good 200m.
"It's one of those flash rips, it's just opened up and taken them out," he said.
A 22-year-old man tried to help the children but also got into trouble and was saved by his brother on his boogie board.
A man and a woman then swam out to the children and kept them afloat until lifeguards arrived on an inflatable rescue boat and took them all to shore.
Surf Club rescuers gave the boys oxygen and first aid until ambulance staff arrived and the boys were taken to Tauranga Hospital in serious condition for further treatment.
The children, and then the adults, were very lucky to be alive, said Mr Smith.
"If they [the adults] hadn't kept them [the kids] afloat they would have drowned. And if our guys hadn't got out there when they did there would've been more [drowned]. Everybody did their job perfectly."
St John district operations manager Jeremy Gooders, who attended the incident, said the children were in a serious condition after their near-drowning ordeal.
"The comment from the lifeguard was they'd run out of energy. One was face-down when the IRB got there to pull them out.
"They were exhausted and they'd ingested a lot of sea water," he said.
Senior Sergeant Glencross praised the actions of the public who went to the boys' rescue, who helped save their lives.
The incident highlighted the dangers of people swimming outside patrolled areas and the need for parents to monitor their children in the water, he said.
Police plan to recognise the actions of those involved in the rescue with a formal award.
- Additional reporting Bay of Plenty Times
- APNZ