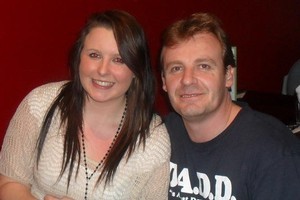 The mother of an 18-year-old woman killed in a head-on crash says speeding is just not worth it.
Mary Ann Dawson was speaking at the funeral of her daughter, Stephanie Ann Joy Fox, at St John's Anglican Church in Johnsonville today.
Stephanie and her stepfather Lance Rielly, 39, died when the car Mr Rielly was driving allegedly sped in a passing lane, lost control and smashed into an oncoming car on State Highway 1, north of Paraparaumu.
Clutching Stephanie's favourite soft toy - Baby Bop, from children's show Barney - Ms Dawson remembered her only daughter as someone who had many friends and loved life.
Stephanie's father had died when she was young and Ms Dawson said she was at peace knowing they were now together.
Ending her emotional eulogy, she told the packed church that speeding was not worth it.
"Through this tragedy I want to say, don't take the risk. If you want to get somewhere sooner, is it worth it? It's not."
Through tears, Stephanie's boyfriend of four years, Sam Pou, spoke of his love for her.
He also spoke of how she was always there for him through his battle with cancer.
Angels by Fly My Pretties, Thinking About You by House of Shem and The One That Got Away by Katy Perry were all played at the funeral.
At the request of her family, many of the mourners had yellow and purple flowers to place on her casket.
Stephanie's best friend Hannah Turner remembered her friend as a "bubbly, beautiful girl".
"You know you have a best friend when she's sitting beside you in a police station holding [your] hand.
"She was the softie, the pretty one, the gentle one."
Ms Turner finished by singing Count on Me by Bruno Mars.
Friends and family carried the casket from the church followed by Ms Dawson, still holding Baby Bop.
A group of men then performed a haka as her casket was taken from the church, before doves were released from outside the church.
Mr Rielly's funeral is tomorrow in Porirua.
The spot where the pair died has been described as an accident black spot - 17-year-old Kelly Thompson was also killed there on September 30 last year.
The New Zealand Transport Agency was meant to spend $5 million last year putting in wire rope meridian barriers along the stretch of road, but it has been put off until 2012-15.
- APNZ