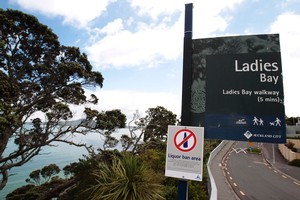 Tourists and visitors to one of Auckland's most popular beach areas say the sight of naked beachgoers there is "gross" and "offensive".
They want the Auckland Council to put up signs warning visitors of nude swimmers at Ladies Bay in St Heliers, who they say are "shocking little children".
John Stokes, from Wellington, who went swimming at the beach with his partner while on holiday on Christmas Eve, said he was confronted with naked men whom he described as "prancing exhibitionists, offensively strutting their stuff".
"I am no prude, but I do not wish to have this exhibitionism inflicted upon me or my children," Mr Stokes said in a letter to the Herald.
"If there were a council sign, I would have no one else to blame but myself. [But] there was no sign."
Chinese tourist Zhang Ke-Wen, who was taken to the Achilles Pt lookout overlooking Ladies Bay as part of his tour, said children from the tour group who strolled to the bay were intimidated by two naked sunbathers.
"The children couldn't believe what they were seeing, because people don't do this sort of thing on Chinese public beaches," Mr Zhang said.
"They went for a closer look, and two of the men started chasing them while holding up their exposed genitals. It was gross."
Mr Zhang said the experience left a sour taste for some in the group, and he suggested the council put up a multi-lingual sign warning of nudity as the beach was a popular tourist spot.
Ladies Bay was once a nude swimming area for women. Naturist men used neighbouring Gentleman's Bay.
But in recent years, more than 80 per cent of the naked bathers at Ladies Bay have been male. However, the beach is not officially designated as a nudist beach.
The bay area is tucked beneath cliffs at the end of St Heliers Bay, beneath Cliff Rd and its multi-million-dollar mansions.
A spokesman for the council said it sympathised with the complainants, but it would not be putting up signs.
"Indecent exposure is an offence, and unfortunately signs would imply official or tacit endorsement of it," he said. "To deter nudity, the council and police do patrol beaches such as Ladies Bay."
Naked beachgoers are reported to have attracted troublemakers and voyeurs, often armed with cameras and binoculars.
Local residents have also complained that nudists' brazen daylight antics, including public sex acts and flashing their genitals, are destroying the area.
TELL US
Should nude bathers be allowed at Ladies Bay? Email newsdesk@nzherald.co.nz