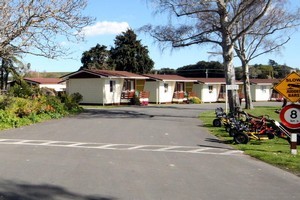 "Shower-stealing" freedom campers who have been sneaking into holiday parks around the country to use the facilities without paying are infuriating park owners.
As the tourist season takes off, holiday park owners are struggling to clamp down on travellers in campervans sneaking in to use their facilities.
The Holiday Parks Association said it received daily complaints about the problem from parks, including those in tourist hotspots Rotorua, Taupo and Northland, and it could cause stressful situations.
"It can get people into very heated situations - on both sides. It's one which is very difficult to handle," chief executive Fergus Brown said.
Offenders were usually young people travelling in vans that were not self-contained, he said.
Dubbed "shower-stealers", they sneak into parks to use toilet, shower and laundry facilities and he knew of some instances where they have been found cooking in communal kitchens. In some cases, frustrations are taken a step further than a discussion.
In Hokitika, where sleepervans have been camping under no camping signs at the river mouth, frustrations were taken out in a vigilante attack this week in which a car reportedly did doughnuts and showered a campervan with gravel, smashing a window. A spokeswoman at the busy Bay of Islands Holiday Park said they monitored people at the gate using a sticker system on cars but they had been aware of people sneaking in to use facilities in the past.
At Golden Grove Holiday Park in Mount Maunganui, owner Max Sullivan said campers had to walk past the office to enter the park and it was easy to spot a non-payer "because there's three roads and they stand there and don't know where to go".
If he caught anyone sneaking in, he charged them $18 or a night's accommodation.
The new Freedom Camping Act, introduced in August, allows councils to issue a fine to freedom campers parking in restricted public areas. But it was a "last resort measure", said Mr Brown.
Department of Conservation campsites cost as little as $8 a night, so there was no excuse for stealing facilities, he said.
"We need to work together to educate visitors about where they should be staying."
Several West Coast holiday park owners reported having problems with free-loading freedom campers.
At Bruce Bay, upwards of six vans with no toilet facilities have been illegally camping alongside the highway and foreshore each night since Christmas.
- APNZ