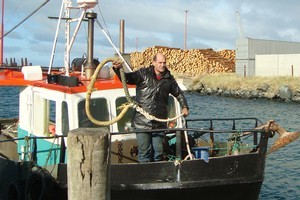 A fisherman who saved three exhausted people from a watery death in Foveaux Strait urged them not to give up as he towed them to safety in his one-man dinghy.
Rewai Karetai rowed out in darkness off an island where he was camping to rescue Southland farm manager Barry Bethune, 46, and two women in their forties, who spent more than five hours in the water after their vessel capsized.
Mr Karetai, 47, told a fading Mr Bethune as he towed him to shore: "Don't f***ing think you are going to give in now, mate. I've got you. You are going to survive this."
But Mr Karetai is gutted he could not help Mr Bethune's son Shaun Bethune, 23, and best mate Lindsay Cullen, 59, who did not survive the icy waters.
It was pure luck that Mr Karetai and his wife, Gloria, were camping on the otherwise deserted side of Ruapuke Island when the trio made it near the shore on Tuesday night.
"Those people were just so blessed that we were right there, or they would never have got found at all," Mr Karetai told the Herald.
He and Gloria had been sleeping, but she told him she thought she had heard a voice. He looked out through the fading light to the sea and spotted a shape "that looked to me like a big cardboard box".
"And then I realised the sound was coming from the front of my boat, which was about 250m off the beach from where we were. I ran down and jumped in my little one-man dinghy and rode my heart out, and got out there.
"I spotted a man hanging off the anchor rope on the front of my boat, and as I got closer to the boat, the next minute there were two ladies who popped out the back of my boat."
The two women had kept Mr Bethune going to that point - "he had already given up, basically," Mr Karetai said.
"I think it was more the shock of having his son die with him.
"He kept drifting in and out of consciousness, and I was scared that we were going to lose him."
Mr Karetai told the trio to hang on to his dinghy as he frantically rowed them back in to shore. He warned them he would hit them with his oar if they tried to get into the dinghy and risked sinking it.
As he rowed, he told the two women: "How would you girls like a cup of tea? I'm going to get you one shortly."
Once back onshore, Mr Karetai and his wife got the hypothermic trio into dry clothes and lit a fire to warm them up, before raising the alarm.
While Mr Karetai is happy he could help the trio, "I more think about the other side of the coin".
He believes all five could have been saved if they had registered their sea trip with the local marine radio base - which would have raised an alert when they were overdue.
Mr Bethune's story of survival appeared in the Herald yesterday.
He described how the group had tried to swim to safety huddled together but when he checked on his son and best friend, both had died of hypothermia.