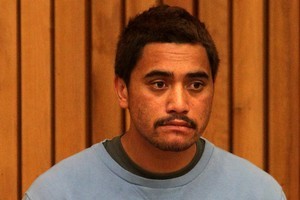 A man charged with causing the Christmas Day crash deaths of his two teenage cousins has been banned from Tauranga while his court case proceeds.
Hetaraka Hikurangi Reihana, 20, was yesterday told he could enter the city only if attending court or meeting his lawyer.
The unemployed Aucklander, who faces two manslaughter charges over the crash that killed sisters Brooklyn and Merepeka Morehu-Clark, aged 13 and 14, in Welcome Bay Rd near Tauranga, appeared in the Tauranga District Court and was released from custody on strict bail conditions.
He has also been banned from driving and consuming alcohol and non-prescribed drugs, and will have regular checks and a nightly curfew at a Manurewa address.
He stood in the dock wearing a blue sweatshirt over a T-shirt and staring down, his eyes sometimes gazing across to a dozen family members in the public gallery.
He was remanded without plea by Judge Louis Bidois until January 23, when he is excused from attending.
Brooklyn and Merepeka were in the back seat of a car driven by Reihana and were not wearing seatbelts.
A 2-year-old girl, believed to be Reihana's daughter and also not wearing a seatbelt is recovering in the Starship hospital.
Brooklyn and Merepeka's mother, Phillipa Morehu, 36, and 17-year-old Haki Davey are jointly charged with Reihana and are next due in court on Monday.
Morehu and Davey, who is believed to be her nephew, were not in the crash vehicle.
Reihana's father, Michael Reihana, was in court yesterday and earlier said his son was close to his cousins, whom he had been visiting for Christmas with family.
"He's got to live with it for the rest of his life, I suppose," he said.
Two crosses bearing the girls' names have been erected near where they died.
The car in which they were travelling allegedly sped past another vehicle, hit a utility vehicle and rolled on to its roof.
The two girls were on their way to visit their grandmother's grave when they were killed.
Brett McCready, the driver of the ute in the crash, earlier told the Weekend Herald how Reihana reacted to the crash.
"He was standing there and couldn't admit what he'd done, going on about, 'It's not my fault, I didn't want to drive, it's not my fault, I didn't want to drive."' Mr McCready said.
"My wheel brace was outside my ute and, honestly, I was going to pick it up and deal to him.
"Then I heard a lady say, 'There's one dead and one under the car,' and it went from anger to sadness ... and I just walked away."