In this summer series, we catch up with some of the newsmakers from last year.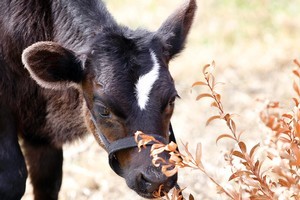 Richie McCow has settled well into retirement from his psychic duties during the Rugby World Cup and is expanding his waistline.
"He just spends his days with his brothers and sisters now, but he's getting bigger by the day. He'll be pretty huge soon," said Richie's owner, Kyle Underwood.
"I had an offer recently to take him to an expo but I told them he's in retirement."
In July, the young black-and-white Northland bull caught the eye of the news media around the world with the silver fern-shaped mark on his forehead - thought to be a good sign for the All Blacks in the lead-up to their World Cup campaign.
Richie was compared to Paul the Octopus of soccer World Cup fame, and thus began his psychic campaign as he chose between milk bottles with opposing teams' flags taped to the sides.
The Ayrshire and Friesian-cross bull ended up with a 60 per cent hit rate when it came to predicting World Cup results.
One of his more controversial - and luckily incorrect - picks was when he chose Argentina to lick the All Blacks.
But all that milk and fame are behind Richie and he spends his days chewing on grass with his siblings and cousins.
"He's become the leader of his pack, I've noticed," Mr Underwood said. "He sort of stands out in front of them and has his little posse behind him, sort of like a gang - he's quite a hard case. He's sort of like the captain, like Richie McCaw."
Richie's a steer now and has lost the colouring that helped to make him famous. "He's gone really brown and reddish because of the Ayrshire ... but he's still got the mark. And he's really fat - or rather, even fatter."
While life is sweet for Richie at the moment, Mr Underwood said that in a couple of years the so-called all-seeing bull would be off to the slaughterhouse.