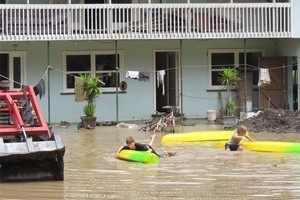 Dozens of farmers in the flood-hit eastern Bay of Plenty have been forced to dump thousands of litres of milk as damaged roads and flooding have prevented trucks collecting it.
The region has been deluged by heavy rain in the last few days, causing flash flooding in many parts to cut off farms.
Roads were only just beginning to open again yesterday, however thousands of litres of milk had already been let go.
Waimana farmer Bernie Clark said his farm had been forced to dump milk and that he knew of several others that had to do the same.
"We had to let about 1000 litres go. We never got picked up [on Sunday] and we never got picked up this morning.
Mr Clark said he'd been in touch with Fonterra and had been told all farmers would be compensated for milk lost.
However it wasn't an ideal situation, he said. "As farmers we don't like to let go of milk.
We spent all this time getting it from the old girls and it's just a waste, really."
The Bay of Plenty Regional Council said the emergency situation with milk dumping may lead to odour issues for neighbouring properties.
Fonterra had told the council that up to 80 farms were affected, said council water management group manager Eddie Grogan.
Meanwhile, a stretch of SH2 near Tekatahi remained closed yesterday because of flooding as large areas of farmland remained underwater.
Motorists taking a detour through to Whakatane were at times surrounded on both sides by flooded fields.
Mr Clark's 28-year-old son, Grant, said about 130 of the farm's 145 hectares has been under water at the peak of the flooding, with water as high as fence posts and in the lower areas "over our heads".
Most of the water had drained away yesterday, leaving silt-covered fields and ripped fences. The farm had flooded 10 times last season, six of them as bad as this episode.
Grant Clark said when he was growing up big floods happened about once every five years.
"They seem to be getting more frequent," he said.
The flooded fields couldn't be grazed for some time, so the farm's 450 cows would be eating maize or palm kernel.
Only a path through two large fields to sharemilker Rory Mitchell's Waiotahi house was above water yesterday. He said almost a quarter of the 82ha farm's best land was flooded, badly affecting production.
Mr Mitchell said the water would take about three days to drain away, but the land would not be able to be grazed for about three weeks.
"I've only been here one year and I've seen it flood 10 times now."
Richard and Nicki Gerritsen's house in Waimana was also flooded by waters up to about 500cm high early on New Year's morning. "It was pretty bad, on January 29 last year we had the same thing but it was a bit deeper this time," Mr Gerritsen said.
The property had flooded 15 times in the four years since they had moved in, and three of those had affected the house itself.
When the Herald visited yesterday, some of the Gerritsens' eight children were helping scrape mud and silt from the ground floor of the house, while others paddled about in their Christmas present kayaks.