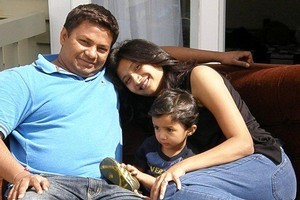 A father who lost his only child when his van crashed and sank into a lake will miss the birth of his next child because his wife is overseas with her sick father.
Ashish Macwan, 32, pleaded guilty to careless driving causing the death of his 3-year-old son, Aarush, during a holiday in the South Island last Easter.
He was discharged without conviction in August and now he and wife Kinnary are looking forward to the birth of another child.
But that joy has been marred by the fact that the baby will not be born in New Zealand, their adopted country whose people took them into their hearts after the tragedy.
After the sentencing, Mr Macwan said he felt as if he was a Kiwi after all the love the country gave him.
"We originally thought we could have delivery of the baby here but she decided to go to India to be with father."
Mrs Macwan's father is seriously ill in India and she is at his side - but that means Mr Macwan will miss their baby's birth.
"That's the sad part. I'm not going to be there. Her father is 74 years old and he's right now not feeling good ... The doctors say he's serious and that's why she wants to go there with her family."
Mr Macwan cannot go because he is working with immigration authorities to be allowed to stay in New Zealand. He is currently on a work permit.
After Aarush's death he spoke of the support New Zealanders had given him and of his desire to stay in the country.
"No, I'm not going to be there. I have to apply for a work permit ... we have been selected from the pool of applicants and [are] putting documents together and everything is under process ... I have to stay here, someone should stay here to do all those formalities."
Mr Macwan failed to put the handbrake on in his rented Toyota Hiace van and it rolled into the freezing waters of Lake Dunstan, sinking 5m below the surface.
The family were on holiday and had stopped so Mr Macwan could stretch his legs and because his wife was feeling unwell.
Despite their desperate attempts and those of passersby, including Central Otago Mayor Tony Lepper, Aarush could not be saved.
Mr Macwan said there was no chance they would leave New Zealand now that their son was buried here.
In an earlier interview with the Herald, he told of their wish to take Aarush home to India but he was forbidden to leave because he was facing charges.
"This is our home now and we don't want to leave him."
After his sentencing, Mr Macwan said Victim Support had been fantastic and he now planned to become a social worker and "to give back the love".
"I told my wife that I might be born in India but today I am a New Zealander because of the way they accept me and show their love."