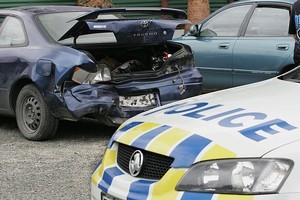 Police are asking holidaymakers to drive safely on Waikato's waterlogged and increasingly congested roads.
Officers across Waihi, Whangamata, Whitianga and Coromandel had reported a quiet night with few problems.
But today, as drivers hit the rain-swept roads, traffic is becoming a major problem.
Officer in charge of the Waikato's summer policing operation, Inspector John Kelly, said: "The main issue remains high traffic volumes, particularly around the one lane bridges up and down SH25, with Tairua being a particular choke point. You need to allow for this when planning your trip and the key ingredient you need to pack is plenty of patience."
He added: "We're also reiterating our warning from yesterday about staying off the road if you've had a big night drinking as alcohol stays in your system for several hours after your last drink."
Yesterday, just minutes after police warned the public of the risks associated with driving after a big night, an Auckland man was stopped on SH25 and blew over 450mgms, nine hours after his last drink.
Stopped about 10.30am the man had gone to bed shortly after 1am and thought he would be okay to drive.
Inspector Kelly said: "Our message remains the same, we want people to have a safe and enjoyable time and to do that you need to ensure you are not fatigued or still intoxicated if you intend driving.
"The other message is cyclists from out of town need to be aware that the same rules apply in regards to cycle helmets here in the Coromandel as they do back home and people also need to be aware they will face action if not wearing seatbelts."
- APNZ