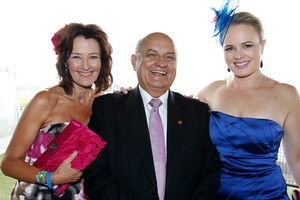 Billionaire Owen Glenn believed he had the best of tipsters at Ellerslie's New Year's Day races yesterday, part of the NZ Herald Christmas Carnival of racing.
A part-owner of the Blandford Lodge stud farm, Mr Glenn is a familiar face at the big holiday festivals. Yesterday, he was with family members of Kiwi model Kylie Bax - mum Helen-Gaye and sister Taryn - who are also business partners in Blandford and sponsored the day's main Group One race.
He said the younger Bax knew something about luck and he kept close to her picks. She'd won him nearly $800 for a quinella, enough to retire on, he joked.
Ms Bax said the secret was not to go crazy at the tote. "I do small flutters, only a little bit."
It was a smaller crowd at Ellerslie yesterday than the brassier Boxing Day event which has the glamour of Viva Fashions in the Field.
Instead, the first meet of the year usually draws racing purists and families who bring tents and picnics for a more relaxed feel to the day.
Cameron George, the raceway's chief stipendiary judge - Ellerslie's top lawman - was kept busy underneath the Ascot Stand.
In his tiny judiciary room kitted out with flatscreens which replay races from angles unavailable to your average TAB viewer, Mr George makes sure the races run clean.
He'll hear protests, question jockeys about their tactics or the surprising poor or improved performances of thoroughbreds.
He also runs the drug testing programme.
He says it can get testy when the room is packed out with owners, trainers and other horse people. "If I was paid on the level of stress I'd be a very wealthy man," he joked.
The bald Australian grinned when he was told he looked every inch the policeman.
"Thanks, that's a compliment. I'm usually called a dickhead."
Farrier Kevin Crampton, a 35-year-veteran at Ellerslie, checked that every horse's racing shoes, lighter than ordinary hoof-wear, were on properly before they went out to the gates.
"An ounce on the foot is like a pound on the back. They've all got aluminium shoes on."
Other well-known faces at the races included actors Will Hall, ex-Shortland Street, and Ben Barrington from The Almighty Johnsons.
Comedian Millen Baird said he'd lost $40 and not picked one winner. He was thinking of hitting up the Baxes for some winners.
"It got to the point where I had my mate putting my bets on for me.
"I look at the colour of [what] the jockey's wearing, and the name of the horse. My dad would be disgusted in that."
Unlike the actors, who had made choices like patterned bow ties and stripy get-ups, Mr Baird in a plain blue suit and white shirt said he was sartorially challenged.
His flatmate had dressed him, but standing next to Mr Barrington he reckoned he was starting to think the flattie hadn't done a very good job.