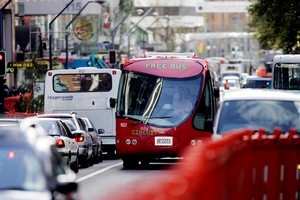 Auckland Transport has abolished free rides on the City Link bus service along Queen St and out to Wynyard Quarter for passengers without electronic Hop cards.
The council-controlled organisation is candid about using the service to try to boost sales of the reloadable $10 cards, which also offer discounted fares on other buses and will be extended to trains and ferries from the middle of the year.
It says the free rides were for promotional purposes after the City Link service replaced the free City Circuit buses in August, and it always made clear its intention to impose fares for non-card holders from the beginning of 2012. That means adults without cards will have to pay 50c for rides on the buses, and children will be charged 30c.
Cards need not have any value stored on them for the City Link, but cannot be used for free travel if they have negative balances from trips on other buses.
Passengers will also have to tag on and off with their cards, even though credit will not be deducted fromthem.
Although the 93,600 cards in circulation can now be used only on NZ Bus services, machine readers have been installed at railway stations and ferry terminals, ready for use on trains and ferries from the middle of this year.
Instead of exposing the public to potential teething troubles from day one, Auckland Transport has decided to conduct an extended field trial of the wider system over the next few months with selected users such as its own staff.
Its integrated fares system programme director, Greg Ellis, said that type of "closed pilot" followed international best practice for introducing new public transport ticketing systems.
Five other companies representing most of the rest of the region's bus operations have also signed an agreement for the supply of hardware to enable Hop cards to be used on their services by the end of the year.
These will be plugged into a system being developed by the French electronics giant Thales under an $87 million supply and operating contract with Auckland Transport.
The Government's Transport Agency, which hopes to develop the system into a platform for schemes in other cities, is contributing $56 million.
That has left Auckland ratepayers covering the remaining $31 million, plus $11 million for extra civil work which was needed for cable connections to the train stations and ferry terminals.
NEW REGIME
* Free rides on the City Link bus service have been stopped.
* Passengers without Hop cards will now have to pay.
* Trips will cost 50c for adults and 30c for children.