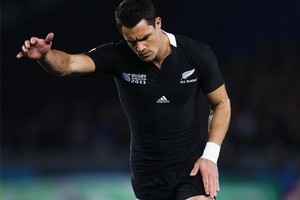 They won the Rugby World Cup without star player Dan Carter, but the All Blacks are being warned they may lose their competitive edge after cancelling a long-running contract with their high-tech video analysts.
Palmerston North-based Verusco Technologies has provided performance analysis and real-time statistics to the All Blacks during the past four Rugby World Cups, as well as helping five New Zealand Super 15 franchises and the ITM Cup teams. But after a review of the needs of the All Blacks and Super Rugby franchises, the New Zealand Rugby Union has decided not to renew the contract.
Verusco founder George Serrallach said he would continue working with the Wallabies and several South African provincial teams, and was sorry to be parting ways with the NZRU.
"I feel sad in the sense that I think we gave the NZRU an edge. We have been proven by [the All Blacks] being number one over the last few years and I believe that we were a part of this success. I don't think that whatever they have chosen to replace us will provide the same level of detail."
Serrallach said their 3D imaging software was not cheap and cost-cutting may have been behind the decision.
"When you are under monetary pressure you make decisions that in the long run are not the right ones," he said. "This information can mean one or two tries in a game."
But NZRU high performance manager Don Tricker said the decision was based on needs, not cost.
Serrallach believed the new Steve Hansen-led coaching team may not rely upon video analysis as much as former coach Sir Graham Henry did.
Some coaches looked for improvements through analysis, he said, but others preferred to rely on intuition.
Serrallach invented a system of monitoring every player's passes, kicks and tackles for soccer, and later modified the technology for use in rugby.
"This allows us to provide a three-dimensional analysis of the game. They can turn the head of Dan Carter and see what he sees at his right and left. They can figure out whether he has made a high quality decision."
His analysts typically provided detailed statistics by 4am the morning after games.