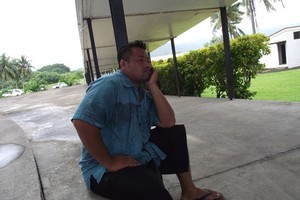 They say time moves slowly in the tropical islands of the Pacific but yesterday, Friday was gone in the blink of an eye.
In Samoa and Tokelau, tourists on one-week holidays got the discount six-day package. Seventh Day Adventists were forced to worship on the sixth day. And it was tough luck for those 775 people unlucky enough to be born on December 30: their birthdays were cancelled.
For Samoa's 186,000 citizens, Friday simply did not exist. Prime Minister Tuilaepa Sailele Malielegaoi cancelled Friday, moving the nation ahead 24 hours to bring it into line with New Zealand. Until now, Samoans had been at church when the sharemarkets opened in New Zealand, Australia and east Asia, he said, denying the country trading opportunities.
Mapmakers are redrawing the International Date Line to the east of Samoa; tourist operators will now market Samoa as first to see the dawn, rather than last to see the sunset. Employers still had to pay workers for the Friday, even though it never happened and they did not work it. Hotel guests, though, were not charged for Friday night.
Last night, New Zealand Samoans saw in the New Year at the same time as their friends and family in the islands - at great risk to the island's international telephone link.
Samoans at home began an all day celebration of New Year's Eve early - at the stroke of midnight on Thursday, December 29, Associated Press reported. Pools and beaches were crowded with revellers.
In Apia, civil servant Junior Ah Yen decided to simply postpone his birthday party for a year and move straight to a New Year party.
Ah Yen was born on December 30, 1978 - but the father of four said he was determined he would not celebrate his 33rd birthday until December 30, 2012.
Ah Yen said the decision to leap over the International Date Line and skip Friday was a good one for the country - but personally, he couldn't help feeling a little cheated.
"They didn't think of those people who lose their date of birth," he told the Herald on Sunday. "My message for those people born on this day is, hang on, next year there will be another day for us. If you are young, then you will still be young next year."
For tourist Elvira Barcelona, her first trip to Samoa was more complicated than she had expected.
Barcelona, 40, arrived in Apia on Christmas day with her boyfriend. The couple were scheduled to return to Sydney on January 1 - but on Friday it dawned on them that they would lose a day.
"We're hoping when we turn up in the airport there are no problems."
Barcelona, a geologist, said that the time change was not a huge deal and she was looking forward to ringing in the new year with a few drinks.
"It's a great opportunity to experience these changes; it's history."