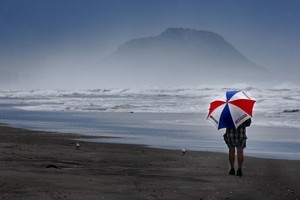 New Year's Eve celebration plans are dropping like flies with wet weather around the country forcing many organisers to cancel planned events.
Celebrations on Wellington's waterfront have been cancelled because of bad weather, while events planned for Mount Maunganui were cancelled yesterday.
Celebrations in Palmerston North have also been cancelled.
Wellington City Council had not decided yet whether a midnight fireworks display would go ahead, while a fireworks display off Auckland's Sky Tower was still due to happen at midnight.
Rotorua's Lakeside concert would now be held indoors at the Energy Events Centre.
Two rescued after car swept down river
A car with two people inside was swept down a river near Whangamata this afternoon as rivers in the area continue to rise.
The pair were trying to navigate their way through a ford to Wentworth Valley Camping Ground, just outside Whangamata, when the car was swept away.
"Luckily the two occupants were able to get out and make it to safety without incident," Sergeant Dave Raffan said.
Two river fords needed to be navigated to access the camping grounds and following this afternoon's incident police closed the road.
"Managers at the camp site have assured us the 100 or so occupants are all safe and well, however, it will be at least three to four hours after the rain stops before the fords will be able to be crossed and there's no sign of the rain letting up at the moment." Mr Raffan said.
Driving conditions around the entire Coromandel were being described as atrocious and police were advising against any unnecessary travel.
Rain forces families to flee
The owner of the Quinney's Bush camping ground decided to self-evacuate the area after heavy rain caused the Motupiko River to rise, Nelson Tasman Civil Defence controller Jim Frater told APNZ.
"[He] arranged for the Tapawera School be made open, some families indicated they may go there, but apparently nobody did, but some decided to self evacuate and go home or move in with friends, others moved to high ground."
The rising river touched the side of the State Highway, but did not cause any other problems overnight.
But surface flooding in Golden Bay created vehicle access problems around Pohara and Tata Beach area.
Nelson's Rocks Road remains closed after a slip about 4pm yesterday.
"They hope to have it inspected and cleaned up, subject to geotechnical advice, hope to have it open by later this afternoon," Mr Frater said.
The rain had started to ease in the area now, but showers were forecast for this afternoon.
Meanwhile thunderstorms lit up the skies around Whangarei and the Bay of Islands overnight and torrential rain pounded Northland, Auckland and the Coromandel Peninsula.
The main rain band had now eased in Northland and the upper South Island, and was currently easing in Auckland, WeatherWatch analyst Philip Duncan said.
- APNZ