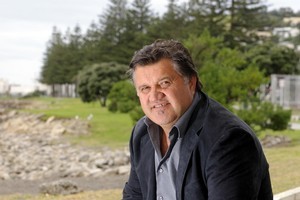 Working as a salesman at an Auckland car yard in the 1980s, Pio Terei had no idea he would carve a successful career in entertainment.
But that was exactly what he did, and today he is recognised for his shaping a life around making others smile.
The New Year honour for his services to entertainment came "out of the blue" for the ever-humble man, who said he was still having trouble believing it was true.
"I'm wondering who put me up for it, but it was really cool."
As Terei sees it, the greatest part about being made a Member of the New Zealand Order of Merit is the honour it has brought to his family name.
"To see our grandparents' name, or our name, in that category is pretty special, you know? I think that's the big buzz for us to see.
"Maori think that way, it's not just about you," he said.
"It's sort of the only way for us because the advice I was given in life was to just keep doing what you do and have a good time, but look after our name.
"So this is a recognition of that - so that's pretty special for us."
In the 20 years he has been in the business, Terei has worked as everything from a comedian, to an actor and as a television host to a musician.
Despite making the move from car sales to comedy five years previously, he first made a name for himself in 1995 on his own TV3 show, Pete and Pio.
Terei then led his own show from 1997 to 1999 called Pio! which featured similar skits to his previous programme.
In 2000, Terei led a TVNZ programme entitled The Life and Times of Te Tutu, a comedy following the daily life of an 1800s Maori chief.
The 53-year-old has since been heavily involved in programmes with Maori Television and for three years has been asking, "What'll it be New Zealand, the money or the bag?"
But Terei has also become renowned for his work giving parenting seminars throughout the country.
For more than a decade, he has spoken in school and community halls about the joys and struggles of parenthood.
"For me, it's about how you utilise the skills you use in entertainment, your profile that you've gained from television.
"It's about getting serious messages into people's heads in a serious way."
Despite being honoured today, Terei has no intention of slowing down and has many projects planned for next year with Maori Television.
He will also continue his work giving speeches at corporate events and sharing his wisdom around the country on parenting.
"It's not an entertainment business, it's a people business and you can do that forever."