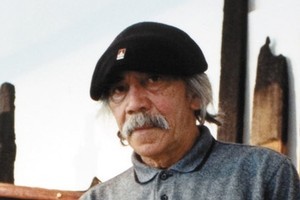 Acclaimed artist Ralph Hotere says he is deeply moved to be made a Member of the Order of New Zealand, the country's highest honour.
The 80-year-old from Mitimiti in North Hokianga is the only person to be appointed to the ONZ in the New Year Honours. It is limited to just 20 living members at any time and puts him in elite company alongside Dame Kiri Te Kanawa, Dame Cath Tizard, Sir Brian Lochore, Helen Clark, Sir Murray Halberg and Margaret Mahy.
Although he has been based in Otago for many years, Hotere's birthplace in the tiny west coast settlement of Mitimiti still plays a central role in his work.
Hotere, who suffered a stroke in 2001, said he was pleased to accept the honour and moved by the letter from Prime Minister John Key.
"He spoke of our nation relying on citizens from all walks of life stepping forward, helping others, seeking new ways of doing things, and reaching for their dreams.
"He also spoke of enriching the lives of others. I am deeply moved," Hotere said.
Hotere Foundation chairwoman Judith Ablett Kerr said the honour was "the ultimate endorsement" of his contribution to the art world, to New Zealand and New Zealanders.
"Ralph's career spans over 50 years and reflects his intense spiritual interest in humanity and environment," the Queen's Counsel said.
"Through his art, Ralph has remained outspoken about issues that trouble the world and that outspokenness continues even today some 10 years after he suffered a debilitating stroke."
The honour was a fitting end to the year Hotere celebrated his 80th birthday with exhibitions throughout the country.
This month, he completed an artwork for his Christchurch printer, Marion Maguire, to show support for the city.
The citation for the New Year honour said that as a painter, sculptor and collaborative artist, Hotere had reacted to social and environmental issues through his work.
It is dominated by black, both in colour and in the artworks' titles, and makes extensive use of words, often quoting poets and his conversations with them.
He has dealt with key New Zealand historical events such as the Springbok tour, the Rainbow Warrior sinking and the Aramoana massacre.
Order of NZ
For services to New Zealand: Ralph Hotere.
- APNZ