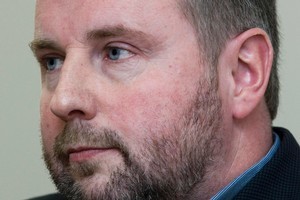 When the killer February earthquake struck Christchurch, Professor Mike Ardagh should have been on a flight out of the city.
Fortunately, the emergency medicine guru's flight had been delayed and he was waiting at the city's airport when the 6.3 magnitude quake struck, killing more than 180 people and injuring thousands more.
"The airport was evacuated, and of course we had a number of aftershocks and things going on," Professor Ardagh, 51, told the Herald.
"There were a couple of policemen there, and I said to one of them, 'Is anyone hurt? I'm a doctor'. And he said, 'Look, you better go into town because the city has fallen over'."
There was one taxi left at the airport taxi rank and he managed to get a ride through the chaos to "chip in" at Christchurch Hospital. Records show that about 365 people who could make it to the emergency department would be treated in the first 24 hours for quake injuries, some carried in by strangers or atop cars.
Professor Ardagh has been made an Officer of the New Zealand Order of Merit for services to emergency medicine - though it is not his efforts in the chaos of February, along with numerous other tireless doctors and nurses, that brought him the honour.
As national clinical director for emergency department services and "target champion", Professor Ardagh has led the drive in recent years to improve the waiting times and efficiency of treatment of patients at emergency departments throughout the country.
He considers the honour a "great recognition of emergency medicine and emergency nursing really".
"It's a reflection of what we have achieved in those fields, and in emergency departments generally over the last couple of decades ... I think they have improved markedly.
"We are not there yet ... but we are certainly going in the right direction."
Some of that work in Christchurch in improving how the hospital operated meant it was in good shape to handle an event like the February quake, Professor Ardagh said.
"It was a momentous occasion in many respects - obviously as a city, but also in the hospital system. I think one of the things that we are all proud of is that we coped remarkably well."
ONZM
For services to emergency medicine: Professor Michael Warne Ardagh.