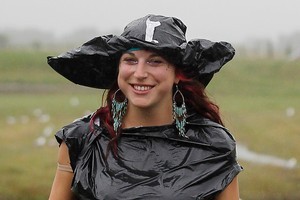 Coromandel festival-goers were settling in for the long haul last night, despite police warnings that more events may not go ahead because of bad weather.
Following the cancellation of Mt Maunganui's New Year celebrations, police said that Whangamata's Summer Festival might also be in doubt.
Sergeant Vince Ranger, of the Whangamata police, warned visitors to make other plans for New Year's Eve in case organisers of celebrations decided to cancel the events.
"At this stage we would ask people who are planning to attend events to ensure they have alternative arrangements in case concerts don't go ahead. Such arrangements should [be] ones that ensure you are out of the elements and can enjoy the coming of the New Year in a safe, family-friendly environment."
But last night, Mr Ranger said he had been assured that the event in Whangamata's Williamson Park would go ahead.
"Organisers of the Whangamata Summer festival have been in contact with police and assured us the events will be running over coming nights come rain, hail or shine.
"It will be up to police to maintain our highly visible presence in the areas, ensuring the holiday locations remain primarily family-friendly locations."
Earlier, campers at Coromandel Gold in Whitianga were preparing for the worst the weather could throw at them.
Rachel Boyes and her two flatmates, Kelsey Morgan and Tessa Davie-Martin, all 20, were preparing to rough it in wet and muddy conditions to see the acts on show at the two-day annual festival.
The Auckland University of Technology trio tried to buy gumboots for the gig, but all were sold out at The Warehouse in Whitianga.
Ms Boyes said there were no showers at the camping ground at the Whitianga Waterways, where festival goers had to be ferried across muddy paddocks on utes and four-wheel drive vehicles. "But we've got baby wipes."
Australian Heath Conklin called the weather "frustrating" but said "a little bit of rain never hurt anyone".
The 27-year-old boat engineer had driven from Auckland with five others to see Shapeshifter and Shihad.
Bronte Linkhorn said the poor weather made Coro Gold a "training run for Glastonbury" - the British festival known for mud as much as the music. "It'll make [Coro Gold] better because it will be more memorable," she said.
Yesterday, the rain slowed congested traffic moving through Tairua, where a one-lane bridge had to be marshalled by volunteers.
What's on
* Rhythm and Vines, Gisborne.
* Coro Gold, Coromandel.
* Exodus 2012 reggae concert, Tauranga.
* Highlife New Year's Eve Experience, Matakana.
* Queenstown New Year's Eve Party, Queenstown.
* Whangamata Summer Festival, Whangamata.
* Glow Party, Paihia.
* Dave Dobbyn Greatest Hits Summer Tour, Waihi Beach.