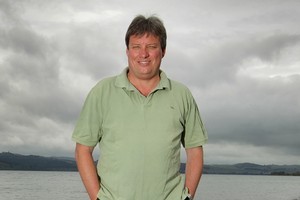 Martin Snedden isn't done with the World Cup yet.
His momentous five years as the Rugby World Cup organisation's chief executive ended eight days ago, leaving the lawyer, former test cricketer and New Zealand Cricket boss with the "odd feeling" of being unemployed for the first time in 30 years.
With the 2011 RWC organisation winning wide acclaim, finding a plum new job should not be difficult. But he is considering writing a behind-the-scenes book first.
"The World Cup has become an important and good moment in New Zealand history and it would be disappointing for all of us who worked on it if the story wasn't captured," said the 53-year-old Snedden, who has been made a companion of the New Zealand Order of Merit. "I'll decide over the next two or three weeks and if so will get stuck into it for the next three or four months."
Will it be warts and all? "Not completely - stuff happens that should stay behind closed doors, but plenty did happen that people don't know about that is worth telling," he says.
"There are not many people well placed to tell that story, to capture the true feeling."
Snedden believes the "Stadium of Four Million" concept was pivotal to the tournament's success.
"Without that cohesion it could have been chaos."
The strategies included everything from designing 460,000 age-specific World Cup books and accompanying teacher resources for every primary and intermediate school student in New Zealand, to coping with the Christchurch tragedy.
Trying to play a constructive and respectful part in the aftermath of the earthquake was by far the most challenging part of the tournament, Snedden says.
When his job finished, the RWC staff, which peaked at more than 200, was down to a dozen workers dealing with the final financial requirements and run-of-the-mill dismantling tasks.
He says he was sad as RWC staff members who had been through so much headed their separate ways, and he felt a touch disoriented after years of excitement and pressure in a job he cherished.
Snedden, his wife, Annie, and their four children were at the family's holiday home in Taupo when the Herald called. The transplanted Aucklanders, who love Wellington life, will return to the capital where Annie is a teacher at St Mark's Church School.
An opportunity to become chief executive of the MCC in London did not work out, but Snedden is holding the door open for another major sports assignment, although the World Cup has also inspired a strong interest in the tourism industry.
For now, though, there is the prospect of writing a book in the warm afterglow of a World Cup job exceptionally well done.
"I knew its importance to New Zealanders and was putting my head on a platter. I walked into something that carried huge risk and reward, and that was a great attraction.
"Joe Public's involvement was so important and the loveliest thing was the way people rose up and took ownership, which was incredibly inspiring to be part of. I was the public face but a wonderful team behind me powered ahead.
"The tournament couldn't have gone much better - even down to the final. If you put aside that New Zealanders would have felt less stressed if the All Blacks had won by 16 or 20 points, the drama and theatre was absolutely perfect.
"The game dragged people's emotions across gravel for an hour and a half, and we got the right result in the end."
Sports honours
Officer of the New Zealand Order of Merit
Christopher Patrick Kenny, Wellington, boxing.
Ian Robert MacRae, Napier, rugby.
Barry John Maister, Picton, sport.
Member of the New Zealand Order of Merit
David John Craven, Palmerston North, hockey.
Anthony Grant Herlihy, Papakura, harness racing.
Graeme Frank Kendall, Auckland, sailing.
Timothy Scott Richardson, Tauranga, rowing.
Sydney Maxwell John Smith, QSM, JP, Amberley, rowing.
Queen's Service Medal
Brian Leslie Aldridge, Christchurch, cricket.
Brian Anthony Coulter, Wellington, rugby.
Dr Selwyn Gerald Maister, Christchurch, hockey.
Kay Jennifer McIntyre, Glenfield, netball.
CNZM
For services to sporting administration: Martin Snedden