Andrew Stone surveys some of the more remarkable trends and breakthroughs which may - or may not - come to pass next year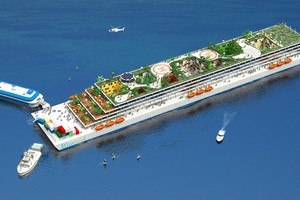 1: Meat 2.0
It may not be a winning topic around the summer barbecue but laboratory-grown meat is within tantilising reach. Lab-raised snarlers and steaks may not yet taste like the real thing, and their appearance suggests they would not be winners in the supermarket.
Early results from work in the Netherlands has created meat-like products which look anaemic and whitish, with blood-red creations yet to rise. Still Mark Post, of Maastricht University, who is cooking up a storm in petri-dish lines, is confident of a breakthrough in in-vitro meat production. Post makes meat using cells called myosatellites, a muscle stem cell, which he attaches to Velcro strips. The cells grow into muscle fibre, and put on bulk because the resistant Velcro strip resists the muscle's tendency to contract.
Only tiny cuts a few mm thick and 2-3 cms long have been made in the Dutch lab because Professor Post's team have yet to work out ways to get oxygen and nutrients into the home-made meat. He fed pig cells with horse fetal serum to create the stir-fry like samples, which evidently were "chewy and tasteless" according to a Russian TV reporter who ate a sample.
Post admits the taste issue is tricky because "we don't really know where the taste of meat comes from".
The impetus to make meat is simple: livestock farming produces vast amounts of greenhouse gas, to say nothing of the inefficient conversion of plant protein into good meat. The Dutch scientist thinks a stunt might help overcome the yuk factor at the dinner table. He'd like a celebrity chef to make a hamburger and a "famous actress" to eat it.
2: Robot teachers
Robots have nudged aside mechanics, factory workers and craftsmen. Their next stop is the classroom. South Korea is leading the way, exposing primary school children in two big cities to the charms of an English instructor named EngKey.
This pedagogue holds scripted conversations to help students improve language skills. Seoul wants an EngKey robot in all kindergartens by 2013, though its little mechanised teacher aides won't be taking over from their flesh-and-blood rivals just yet.
Still, the early feedback contains signs that might discomfit the teacher unions: researchers found pupils relax around the robots and stretch their minds a little more. In other words they feel more comfortable making mistakes in front of Mr Steel than Miss Jean Brodie.
3: All at sea
Billionaire Peter Thiel has a soft spot for New Zealand and a firm ambition to launch an armada of independent floating platforms beyond the reach of the taxman where citizens determine their own laws.
After a slow start, the idea of these cities on the high seas gathered momentum when Thiel, who helped start Facebook and owns stakes in Kiwi high-tech firms, ploughed US$500,000 into the seasteading movement. Honduras has gone further than any nation, amending its constitution to create special zones exempt from local or federal laws. In 2012 a little chunk of the Central American country may become the first of these micronations. How far Thiel can float this particular boat is uncertain, though its advocates have no shortage of funds.
A few design difficulties need to be resolved first. For a start, the huge pontoon-like barges which feature in seasteading concepts could heave about in heavy seas, creating discomfort for their high-end residents. And their cost, while uncertain, won't be small - building renewable-energy systems to withstand everything the ocean throws up is costlier than similar designs used on terra firma.
4: Drone journalism
Dissent was so big in 2011 that Time made The Protester its person of the year. So it is no surprise that reporters covering mass unrest need new tools to do the job without getting knocked around. Look out then for drone journalism to deliver closeups of the action, in the way the wire-guided spidercam captured some of the best Rugby World Cup images at Eden Park.
Poland got ahead of the pack with the use of unmanned aerial vehicles when a firm called RoboKopter launched a miniature flying drone equipped with a camera to film aerial shots of a Warsaw protest in November. Video made by the UAV made for cinematic coverage of a confused demonstration involving far-Right Polish nationalists and Left-wing German anarchists.
Use of UAVs offers the chance of close-up coverage of dangerous conflicts or scoop missions in territories where authorities exclude the media. For news editors, UAVs have the advantage of going where they told and doing what is asked of them. Best of all for hard-pressed newsroom budgets, expense claims would be negligible.
5: Mending broken hearts
Every 90 minutes a New Zealander dies from heart disease. That's 16 people a day, and in many cases the fatalities are premature and preventable. Besides this sad statistic, about 90,000 have been hospitalised from heart attacks, with the certain likelihood that their damaged central organ will never fully recover.
Advances in cell science and tissue regeneration make it possible to think of repairing battered hearts by restoring muscle mass to the vital piece of equipment. Tests using the ever-faithful laboratory mouse have revealed a protein called thymosin beta 4 (TB4) switches on a gene that encourages the growth of healthy heart muscle cells. The lab work found TB4 was best given before a heart attack.
This vital discovery suggests people at risk - those with high levels of cholesterol or suffering from hypertension, or from families with histories of heart disease - would be prime candidates for the medication. Stem cell research aims to stimulate the growth of new blood vessels in the heart. Once more, mice are the guinea-pigs. Already they have grown blood vessels in damaged limbs; the next step is to get some heart action.
The frontier area of tissue engineering offers promise that bits of damaged hearts could be repaired with tiny sheets of cells. This cutting-edge technology is being tried on rats, with humans further down the line, and involves using special heart cells to make cardiac sheets to patch on damaged hearts.
6: Plastic chicken feathers
Chicken feathers by the tonne are discarded each year as the humble chook makes its way through food processing systems to reach hungry consumers. New research suggests waste feathers could be turned into lighter, more environmentally-friendly plastics. Like hair and fingernails, feathers are mostly keratin, a robust protein which is both light and strong.
Plastic composites at present are made from petroleum-derived materials, which are not getting any cheaper and don't easily break down. Collecting feathers poses a challenge to this technology, as poultry farms are scattered far and wide. Compacting them will be easier said than done. But the technology shows promise and has already produced a thin, water-resistant film.
The whole biodegradable area is attracting investment, given the growing problem of plastic waste disposal. Nokia has picked up the pace in the throwaway communications market, producing a range of 40 mobile phones with the outer casing and battery cover made from corn starch. And Fujitsu has made a mouse for its computers from Arboform and Biograde, two biodegradable plastic materials.
7: Cooking with gas
The industrial giant Philips has designed a home which runs on its own waste. So far it perhaps looks better than it works, as the idea of devices which convert solid wastes and potato peelings into methane gas for fuel provokes nervous comparisons with the Pike River disaster. But there is no mistaking the Dutch manufacturer's determination to create kitchens where bacteria and manual labour are the future - and not elements of a shiny stainless steel past.
At the heart of the kitchen is what its designers call a bio-digester, which resembles a prop from a Sherlock Holmes set, and a hand-driven machine called a "paternoster", which pulverises nasty plastic packaging and mixes the grindings with a decomposing fungus.
The process yields edible mushrooms - just the ticket to fry using biogas. An "urban beehive" which hangs on the wall completes the package. Said Clive van Heerden, senior director of Design-led Innovation at Philips Design : "We need to push ourselves to rethink domestic appliances entirely."
8: Voice in the machine
The voice that talks to drivers from a GPS device might be friendly but lacks real emotion, just like the sound from the audio book or video game - all fall short of the full range of human emotion.
But former Israeli concert pianist Gershon Silbert thinks he has created a text-to-speech engine that makes lifelike synthetic speech. Where his company, VivoText, claims it is ahead of the game is with a patented database it says captures "emotion" and software that sorts out the context of a phrase or longer sentence.
For investors, the technology appeals because it's much cheaper to get machines to create human speech than have voice actors paid for the work.
9: God of small things
Anyone who has been in the developing world will have seen shops selling little shampoo sachets or soap bars. In India, Hindustan Unilever figured millions couldn't afford their products so they "adapted to the poor" and sold the mini packs using door-to-door "shakti ladies" who got microcredits to become small entrepreneurs.
The one-rupee product range earns healthy revenues for the company. The new frontier is the smallholder farmer, who typically gets a fraction of the potential of their plot. The agro-chemical industry is on board the mini-pack revolution, with herbicides, pesticides, fertiliser and seeds crammed into sachets.
Not everyone approves of farm chemicals, and packaging is an issue, but smart applications increase yields, feed more hungry mouths and earn income for farmers.
10: End of the world
Perhaps we shouldn't omit one event which won't occur in 2012. That's the end of the world, as predicted by folk influenced by the vanished Maya civilisation, which thrived 3000 years ago in Central America. The Mayans used a complex calendar, the Long Count, which covers more than 5000 years. It ends on December 21, 2012, then starts again.
Except some fear that's the time everything stops, as a result of galactic alignments, shifting poles or perhaps a passing dwarf star. Hollywood fed anxieties with the movie 2012, which pulled in $1.2 billion and confirmed there's always a dollar in bunkum. Nasa gets truckloads of questions about the doomsday predictions but insists we shouldn't lose sleep.
Scientist Don Yeomans, who keeps a watch on objects heading our way, says there is no credible evidence to back the idea that it will all be over at the end of the year. In a blog he wrote: "Where is the science? Where is the evidence? There is none, and all the passionate, persistent and profitable assertions, whether they are made in books, movies, documentaries or over the internet, cannot change that simple fact."
*Sources: Science Media Centre, Rough Guide to the Future, Agencies.