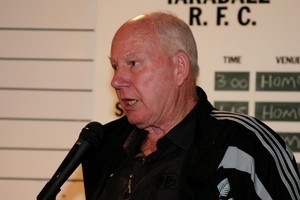 Hawke's Bay and All Black rugby legend Ian MacRae regularly tells promising youngsters it doesn't matter how they have been raised ... they can still reach the top if they put the work in.
MacRae, who played 45 matches for the All Blacks between 1963 and 1970, is the perfect example. His father died when he was 10 and his mother was confined to a wheelchair after suffering a stroke when he was 7.
"I was brought up by my sisters in tough times on the wrong side of the street but I still achieved the goals I set,'' MacRae, 68, recalled.
There have been numerous awards and honours for MacRae and they don't come much better than his latest honour. The former midfield back who played 85 first class games for the Magpies between 1963 and 1971, was made an Officer of the New Zealand Order of Merit in the New Year's Honours.
This award recognises his 50 years service to rugby as a player, coach and administrator at regional, national and international levels.
It capped a year of highlights which saw him elected as vice president of the New Zealand Rugby Union back in April and as a result he had one of the best seats at Eden Park when the All Blacks won the World Cup with their 8-7 win against France in the October 23 final.
"While we are still glowing in the glory of the World Cup success there was a feeling of relief on that night. When I heard about this New Year's honour it was a lot happier occasion ... I was pretty chuffed. The family are pretty excited too,'' MacRae, a father of two and grandfather of two, explained.
Earlier this month MacRae retired from his role as club competitions manager with the Hawke's Bay union to enable him to have more time to carry out his national duties which will increase when he becomes president of the New Zealand union in 2013.
"There were events I should have attended this year but I was unable to because of the Hawke's Bay stuff I was doing,'' MacRae said.
He will also have more time to improve his golf handicap of 22.
"I've got my mate Blair playing now too so there's always a beer at stake,'' MacRae said referring to his former Magpies and All Black teammate Blair Furlong.
MacRae is a life member of the Hawke's Bay union as well as the Saracens and Napier Old Boys Marist clubs. He was included in a team of All Black Living Legends in 2000 and served on Super Rugby's judicial panel from 1996-98.
A former Hurricanes ambassador, MacRae, received a Napier City Council Civic Award in 2009 and earlier this year was selected by the Minister of Conservation as one of 17 national Living Legends for a tree-planting project which coincided with the World Cup. He has also served on the Napier City Council's Hillary Commission Grants Allocation Committee.

For more articles from this region, go to Hawkes Bay Today