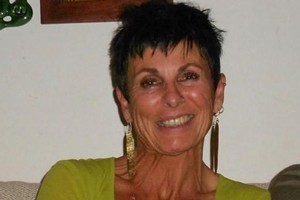 A New Zealand teacher wrote how she was missing the tastes and sights of a Kiwi Christmas just hours before being bashed to death outside her United States home.
Prudence Hockley, 55, died on Christmas Day after she was allegedly beaten by her bodybuilder boyfriend - a convicted criminal with a history of illegal steroid use and violent and sexual offending.
Ms Hockley, originally from Nelson and educated at Canterbury University, moved to Seattle, Washington in 1978.
An English teacher at Woodinville High School, she leaves a son and two daughters, the youngest aged 13.
Police said Ms Hockley left her home about 11pm on Christmas Eve to speak with a friend.
Witnesses reported hearing a thump and seeing a man walk away and drive off in a car.
Ms Hockley's 13-year-old daughter, Maggie, raced outside to find her mother unconscious.
She died in hospital on Christmas Day from blunt-force trauma to the head.
Details of the incident only emerged on Wednesday, with police alleging Ms Hockley was beaten by her 48-year-old partner, Johnnie Lee Wiggins.
Ms Hockley's last post on her Facebook page, on Christmas Eve, listed the things she was missing about home.
"Summer Christmas in New Zealand. Mussels, white wine, monarch butterflies, the beach. Sigh."
A friend replied: "A long sigh back Prue. Come home."
Ms Hockley's nephew, 45-year-old Jonathon Hockley, today said he was still coming to terms with the devastating news.
"It was an awful shock, to put it mildly. We're still trying to find out exactly what happened," he told APNZ.
"My father phoned from Australia on Boxing Day morning and said Prue had been assaulted and was not expected to live. He phoned about an hour later to say she had died.
"It's been a bit of a blur trying to deal with it and come to terms with it ever since. It's been a hell of a time."
Mr Hockley, a digitiser from Christchurch, said her New Zealand family were considering a memorial service to remember her life. "If I could afford it, I would definitely go to the funeral. But there's been talk about doing something here, but it's very early. We'll certainly do something in our own way."
He visited his aunty in the early 1980s while she was living with her American husband in a log cabin just outside McKinley National Park in Alaska.
The English teacher, who was "passionate about books and the English language", left an indelible impression on Mr Hockley.
"She inspired people," he said.
"She was incredibly bright and had a great teaching career. I've been looking through the comments on her Facebook tribute page and there are lots of lovely comments.
"But it doesn't surprise me to see all these incredibly touching things being said about her. She helped so many people. She was very artistic, played the piano, outgoing and really a very strong person.
"She was proud of her Kiwi roots, but also loved where she was, and crossed both countries. An amazing woman."
Mr Hockley said her death was "tragedy", especially since it occurred on Christmas Day.
"Her young family will now always associate Christmas with their mum's death. It's a tragedy."
Ms Hockley and boyfriend Wiggins - a 1.9m tall, 117kg professional bodybuilder - had bonded over their love of fitness, the Daily Mail reported.
Wiggins was on supervised parole at the time of the alleged incident, having been released from a Georgia prison in 2008 after serving time for assault.
Washington State Corrections officials have listed Wiggins as high-risk violent offender due to his extensive criminal history and concerns he would commit another violent crime, Seattle news website Publicola reported.
Records describe Wiggins as a high-energy "smooth operator" with drug problems and issues with "sexual deviancy".
His prior convictions include assault, theft, and public exposure.
Washington State Corrections officials have been battling for months to send Wiggins back to Georgia, but authorities there have refused to seek a warrant.
The wrangling between the two states began after Wiggins, who works at a Seattle gym, allegedly assaulted a Corrections officer during a parole visit last May.
A report said he threw the officer out the door of his apartment. He was eventually arrested by two officers, one of them wielding a taser, and had to be restrained by two pairs of handcuffs due to his size.
Officers found a dozen bottles of steroids - more than four times the amount needed to secure a conviction - and a syringe full of liquid in his apartment.
Facebook tributes to Ms Hockley have flowed from family, friends, students and teachers, with almost 1200 people flocking to the "R.I.P Prudence Hockley" page.
Many described her as an inspiring teacher and unique individual who touched many lives.
Student Nolan Matsui said Ms Hockley had a "crazy and fun personality".
"Never a dull moment in English class ... Hockely inspired me to travel to New Zealand and in college I studied the Haka dance style and performed it for our class ... it reminds me of her and always will every time I see it performed!"
Neighbour Ginny Rollett said Ms Hockley was "a lovely human being, full of life and creativity".
"Her passing is a loss beyond description. To her family, I am so, so sorry."
Niece Taylor Campbell said it was "so beautiful reading all these posts about my Aunty and how many people she influenced throughout her life".
Woodinville High School principal Kurt Criscione said Ms Hockley was "an extraordinary teacher - passionate about learning, reading and writing".
"She developed strong relationships with students and pushed them outside of their comfort zones to expand their learning."

- APNZ