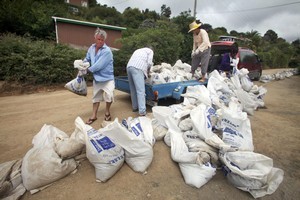 Wellington City Council is asking people to clear their drains as high tides and heavy rain is causing surface flooding in low lying areas in the city.
A severe weather warning has been issued for Nelson, Marlborough, Wellington, Manawatu, Taranaki, Bay of Plenty, Rotorua, Taupo, Taihape, Taumarunui, and Northland.
MetService is forecasting burst of heavy rain for many areas, with the biggest downpours predicted for Taranaki, the central North Island high country and Bay of Plenty.
Heavy rain is also forecast for Nelson and northern Marlborough, along with Wellington and Kapiti Coast today.
Significant rain, with heavy falls, is also expected to affect Wairarapa, Manawatu and Wanganui from later today and into tomorrow as a southerly change converges with warmer northerlies and becomes slow moving for a time.
Isolated thunderstorms with localised downpours are possible tomorrow afternoon in central areas of the North Island.
Wellington City Council Operations manager, Mike Mendonca, said high tides and heavy rain this morning has caused water to pond in streets in flat and low-lying suburbs like Seatoun and Miramar.
Council crew have been busy clearing drains, he said, but residents are asked to also lend a hand clearing blocked roadside drains if they are concerned about rising water levels.
Rain causing chaos on roads
Meanwhile, wet weather is causing havoc in Waikato, with police called to nine crashes between 7am and 9am.
Inspector Leo Tooman said smashes had been reported in Taupiri, Horotiu, Kopu, Kopu-Hikuai Rd, Whitianga, Whiritoa and Whangamata.
"It really is a case of cars falling off the road as drivers lose control in very slippery conditions and the only solution is to slow down, even if that means travelling at 70 km/h in the wet," he said.
"Drivers need to realise 100 km/h is a limit not a target."
Mr Tooman said drivers on holiday highways heeded warnings yesterday but were less responsive today.
"Yesterday we were very pleased with drivers adjusting their speeds on both SH25 and SH25A up and down the Coromandel but today it seems a lot of our warnings are falling on deaf ears."
Mr Tooman said another problem was cyclists wearing dark clothing in wet conditions, making it very difficult for other road users to see them.
More rain for Tasman
Heavy rain sweeping across the country has already caused problems in Golden Bay, with four Pohara Valley households evacuated overnight.
The Nelson and northern Marlborough regions, still recovering for severe flooding and slips earlier this month, is forecast to receive another 40-70mm of rain fall from 9am today through to 6pm tonight, mainly in the hills and ranges.
Nelson Tasman Civil Defence controller Jim Frater said the emergency operations centre sprang into action about 10.30pm after downpours across the region, particularly the Pohara Valley area.
"Police were going door-to-door and checking with people, making sure they're okay, and contractors were out checking drains and so forth," Mr Frater said.
The Pohara camping ground suffered minor flooding, forcing staff to move campers and set up sandbags.
Mr Frater said the centre called it a night after rain in Golden Bay eased by 1.30am.
The Abel Tasman road over the Wainui Hill was closed overnight and contractors would this morning assess whether it could be reopened.
In the Nelson area, Cable Bay Rd, Iwa Rd and Moana Ave were closed yesterday as a precaution. They were not expected to reopen until later today at the earliest.
Contractors have been assessing damage since first light. Mr Frater said there had been minor slips but so far did not appear to be any significant damage.
The Maitai River in Nelson reached its first alarm level at 6am but was dropping as the rain stopped, Mr Frater said.
Freedom campers are advised to avoid camping around rivers for the next few days.
- APNZ