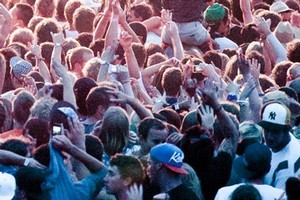 Festival-goers heading to Coromandel Gold should swap sandals and singlets for gumboots and raincoats as the rain threatens to dampen the region's largest summer music event.
But the event's organisers say the event will go on rain or shine and were yesterday finishing the stage and placing a last-minute order at The Warehouse for thousands of ponchos.
More than 12,000 revellers will join Whitianga's already swelling summer population today for the music festival at Ohuka Farm, 3km from Whitianga town centre, for the third year.
The success of the sellout event in the past two years encouraged Mark Wright, who also organises Wellington's Home Grown concert, and his business partner Peter Campbell to run it over two days for the first time.
The New Year's Eve concert featuring Shihad, Fat Freddy's Drop, The Black Seeds, Ladi 6 and festival stalwart Shapeshifter sold out within days of going on sale, but about 1000 tickets are still available for today.
New Zealand artists Trinity Roots will be the first to grace the stage at 4pm today.
The Kiwi band and other local acts will be joined for the first time by an international act - Jamaican roots reggae singer Horace Andy and band Dub Asante.
The empty Waterways section on the outskirts of Whitianga will be transformed into a makeshift camping ground from this morning with 5000 concert-goers pitching their tents.
Mr Campbell said they had absolutely no plans to cancel the event despite a gloomy weather forecast for the next few days and "people just needed to be prepared to get a little wet".
"We would be pretty disappointed [to cancel it], as would anyone who has bought a ticket.
"A lot of work has gone into this site. I think it will hold up and hold up pretty well."
Wellington student Shannon Lenihan, 20, has rented a bach in Whitianga with about 20 friends after having the "best new year's ever" there last year.
For her, Shapeshifter is the highlight of the 18-strong line up.
"Who cares about the weather - that hill will be fun to slide down if it's pissing down.
"It will be cool if it was raging like last year's weather but it's not going to stop us from going."
Mr Wright put the event's success down to an impressive line-up and good behaviour from the slightly older mid-20s crowd.
"We have a strong line-up over the two days - the best of the best from New Zealand and a highly regarded artist from Jamaica," he said.