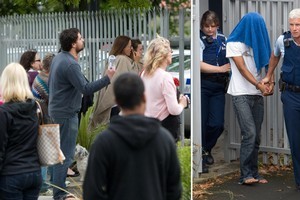 Public fury at a teenager charged with sexually violating a 5-year-old girl in a Turangi campground threatened to erupt into violence as he was escorted from court.
One man shouted at the boy, a 16-year-old from Turangi, to show his face as he was led between the police station and courthouse and called him a "scumbag".
Family members, some whom told the boy they loved him as he walked past, had to be held apart from angry members of the public.
The boy's father was heard to lay the blame on alcohol.
The family, some of whom arrived with young children, refused to talk to reporters outside the courthouse and at times hid their faces with their hoods and hands to avoid being filmed or photographed.
They filled one side of the public gallery, with reporters on the other, as the teenager was led into the dock at Taupo Youth Court, facing charges of sexual violation, aggravated wounding and burglary.
Dressed in baggy jeans and a white T-shirt, he trembled and fought back tears as he pointed out family members to Judge Jocelyn Munro and later clasped his hands behind his back, at times sobbing loudly.
Judge Munro remanded the youth in custody for two weeks, suppressing details. The accused did not seek bail.
His mother shouted to him, "Love you, my son," as he was led from the courtroom.
His appearance came just over a week after the victim, who was holidaying from Europe with her parents and 3-year-old brother, was attacked on the night of December 21 in a caravan at Club Habitat Holiday Park.
She suffered injuries in the attack, which took place while her parents were only metres away in an amenities block and while her brother slept nearby.
It led the officer leading the investigation team, Detective Inspector Mark Loper, to tell a press conference yesterday: "New Zealand society probably needs to take another good look at itself. A lot of the detectives have children themselves so it's always hard when we are having to investigate anything like this."
Mr Loper confirmed that the boy was brought to the police station by a family member.
He could not reveal when the youth first became a suspect or whether he was involved in any of the parties - one thought to have involved Mongrel Mob members - held in Turangi on the night of the attack.
The investigation team, which worked through Christmas over a "hard week", was "very happy" with the arrest and was likely to be disbanded tomorrow, he said.
"This has been an investigation that has been short, and that's because of the dogged determination of the inquiry team.
"Their resolve, and especially [the ESR forensic unit] has been outstanding."
The girl's family were told of the arrest by Bay of Plenty District Commander Superintendent Glenn Dunbier.
"They were pleased we had someone in custody, pleased for themselves, but also pleased for the community."
The girl has been discharged from Waikato Hospital but still needs medical treatment.
Mr Loper understood the family would leave New Zealand when their daughter was able to travel.
A trust fund for the girl has reached almost $52,000, with $13,000 raised by the Turangi community.
"It just shows you the reaction of New Zealand as a whole," Mr Loper said.